Capt. Khan's Army Commander: Any Attack on Khan Family "Despicable and Un-American"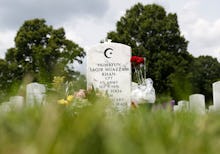 The feud wages on between Donald Trump and the family of Capt. Humayun Khan, the Muslim American soldier killed in Iraq, whose parents, Khizr Khan and Ghazala Khan, made a powerful appearance at the Democratic National Convention. 
Now, Humayun Khan's former Army commander has taken to the Washington Post to voice his support for the Khan family — and to call out Trump.
"I join all those who stand in support of the Khan family," Dana J. H. Pittard, Khan's combat brigade commander in Iraq, wrote in the moving opinion piece. "This family is our family, and any attack on this wonderful American Gold Star family is an attack on all patriotic and loyal Americans who have sacrificed to make our country great. Any politically or racially motivated attack on the Khans is despicable and un-American."
The Khan family entered the spotlight at the DNC, when, in one of the convention's most memorable speeches, Khizr Khan pulled out a copy of the constitution and asked Trump if he'd read it.
"Donald Trump consistently smears the character of Muslims," Kahn said. "He disrespects other minorities, women, judges — even his own party leadership."
"Donald Trump, you are asking Americans to trust you with their future," he continued. "Let me ask you, have you even read the United States Constitution? I will gladly lend you my copy."
Petard's Washington Post piece was published shortly after Trump campaign spokeswoman Katrina Pierson told CNN's Wolf Blitzer that Hillary Clinton and Barack Obama were probably to blame for Khan's death in Iraq in 2004 — even though George W. Bush was president at the time. 
Blitzer had asked Pierson whether Trump would apologize for implying Ghazala Khan's religion forbade her from speaking at the DNC — another disturbing hit on the Khan family by the Republican presidential candidate.
"What exactly is Mr. Trump supposed to be apologizing for?" Pierson asked. "It was under Barack Obama and Hillary Clinton that changed the rules of engagements that probably cost his life." (She later admitted her "timeline" was off, Yahoo News reported.)
Pittard still remembers the day Khan — whom he called a "great officer" — was killed by a car bomb as Iraqi day workers were entering their camp. "Humayun died trying to save the lives of innocent Iraqis," he wrote. "His brave effort to approach the vehicle probably saved American lives as well."
The U.S. needs leaders, Pittard said, "who are steady, patient and empathetic, especially at the national level, during this troubled time. We need somebody who has respect for our Gold Star families." 
"But, above all," Pittard wrote, "our country needs more men and women like Humayun Khan and the countless others who willingly and humbly served this great nation of ours without reservation or recognition."
Read more: