Phoenix Serial Street Shooter Has Struck for the Ninth Time, Police Say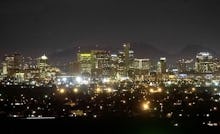 Police say Phoenix's serial shooter has struck for a ninth time, CNN reports. The elusive suspect — reportedly dubbed the "serial street shooter" by police — has been linked to a string of shootings this year that have killed seven people and wounded two.
Authorities believe a July 11 shooting is connected to the serial shooter, they announced on Wednesday, according to CNN. A suspect had shot at a car containing a 21-year-old man and a 4-year-old boy, both of whom escaped injury. 
"There are a lot of things that struck investigators as resembling the serial shooter's scheme," Phoenix Police spokesman Sgt. Jonathan Howard told CNN. Each had "no apparent motive, no pre-incident contact."
"It took awhile for investigators to connect the evidence and witness information to draw the conclusion that this incident was linked to the serial shooter," Howard said.
In a Wednesday Facebook post, the Phoenix Police Department offered a $50,000 Silent Witness reward "for any information leading to the arrest of this suspect." The Federal Bureau Investigations has added an extra $20,000 to the reward, which was previously $30,000.
"Investigators continue to ask that residents remain vigilant and report suspicious activity, including unfamiliar people or vehicles, in their neighborhoods," the police department's Facebook post said. 
The previous shootings: The string of shootings linked to the serial street shooter began on March 17. A 16-year-old boy was walking down the street at 11:30 p.m. when he was shot and wounded, according to CNN. The next night, a 21-year-old man was shot and wounded. Two people were shot and killed in April, followed by five in June.
Police say the suspect targets victims at night, and that he uses a semiautomatic handgun. He may also use multiple cars.
"Based on witness statements, investigators believe that the suspect has access to multiple vehicles which may change, but the two best described are a white Cadillac or Lincoln type vehicle and a black late '90s or early 2000s 5 Series BMW," the police department said on Facebook. 
The suspect has been described as a "lanky Hispanic male under 5 feet, 10 inches tall," according to CNN.
Read more: