New Polls Show Donald Trump Taking His Biggest Dive Yet in Swing States, Nationally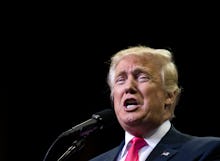 A spate of new polling released late Wednesday night paints a grim picture for Donald Trump's electoral chances in November, as he now trails Hillary Clinton by double digits in a national survey, as well as three states key to his shot at victory in the fall.
Most troubling for Trump is a new poll out of Pennsylvania that shows Trump down 11 points to Clinton.
Trump and his campaign are banking on turning traditionally Democratic states like Pennsylvania red by galvanizing white working-class voters frustrated by the state of the economy.
But the survey, conducted by Franklin & Marshall College, found there are not enough of those voters in the state to offset Trump's massive deficit in the diverse and well-educated suburbs of Philadelphia — where Clinton holds a massive 60% to 20% lead over Trump.
Even more troublesome for Trump is that polling in Michigan and New Hampshire — two states that Trump is also counting on turning red after they voted for President Barack Obama in 2008 and 2012 — also shows Trump far behind Clinton.
_____________________________________________
Read more:
_____________________________________________
In Michigan, which the Trump campaign hoped they could turn red for the first time since 1988 thanks to support from angry working-class whites, Trump trails Clinton by 9 points, according to a poll conducted for the Detroit News/WDIV-TV.
And in New Hampshire, a state where Trump trounced the massive 17-candidate GOP field in February, he trails Clinton by a whopping 15 points, according to a new poll conducted for WBUR.
That survey found Trump's favorability plummeting to 29%, with a massive 60% viewing him unfavorably. Clinton, on the other hand, improved her favorability rating in the Granite State to an even 45% favorable, 45% unfavorable.
This new glut of polling paints a grim picture for Trump's chances at capturing the 270 Electoral College votes needed to win the White House.
Without winning states like New Hampshire and Pennsylvania, Trump could nearly sweep the remaining swing states and still lose to Clinton.
And sweeping the rest of those states also looks grim, as a Fox News poll released Wednesday found Trump trailing Clinton by a 10-point margin nationally.
In that survey, Clinton led Trump 49% to 39% — marking a 5-point bump for Clinton following last week's Democratic National Convention.
All of the polling comes after possibly the worst 10 days for Trump's campaign, after he picked a fight with a Gold Star family, was reported to have asked multiple times why he can't use nuclear weapons, refused to endorse House Speaker Paul Ryan amid a primary challenge, and saw a handful of prominent Republicans back Clinton.