Jessica Simpson Is the Unexpected Body-Positive Icon We Need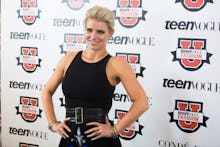 "I Wanna Love You Forever." "With You." "Take My Breath Away." That scene in The Newlyweds where she ponders what Chicken of the Sea really is. These are all incredibly important contributions that Jessica Simpson has made to the world. 
Now, as the woman at the head of her own billion-dollar empire (yes, billion), she's letting the world know that not only is she accomplished and business-savvy, but she's also aware of just how hard it can be to find cute clothes if you're plus-sized. 
In an interview with Women's Health, in which she promotes her athleisure brand called The Warm Up that comes in plus sizes, Simpson reveals that because of her much-documented weight fluctuations through the years, she understands what women who may not be a size 0 or 4 or 8 or 10 need from their clothes. 
"I have been every size there is," Simpson said. "I know what looks good on a variety of body types. Every woman should feel like she can wear what the model is wearing down the runway." 
Throughout her career, Simpson has faced harsh criticism centered around her body. Although it's perfectly normal for a human being's weight to change over time, it isn't normal for a young woman in Hollywood. Rather than conform to industry ideals, Simpson has merely focused on her own life, which includes being a mother to two children, and has gradually gotten fitter in the process. 
"Before I was a mom, I was dancing on tables at clubs and that was my workout," she said. "Now I'm chasing kids. Your biceps curls are picking up your kids." 
Obviously though, she hasn't forgotten about the struggles that women who are a size 12 or above face when it comes to fashion and body-shamers. 
"I will never understand why people take someone down for what you look like," she told Women's Health. "If I had a character flaw, take me down. But a body flaw? That's not important."
Simpson now joins the ranks of the many other women in Hollywood who are speaking out about sizeism in fashion, from Melissa McCarthy to Dascha Polanco. She is also taking it one step further, like McCarthy and Rebel Wilson, by ensuring that her brand doesn't contribute to a world where the newest, sparkliest and cutest things are only for women who can fit into a sample size. 
Let this be a lesson to never underestimate Jessica Simpson.  
Read more: