Kylie Jenner Gives the World an Inside Look at Kris Jenner's Closet Full of Birkin Bags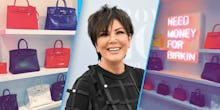 Samantha Jones may have brought the Birkin bag into public consciousness when she yelled "fuck" at an Hermès rep 12 times in a 2001 episode of Sex and the City, but it's preeminent momager Kris Jenner who's making sure the Birkin's reputation as one of the most sought after bags endures.
On Wednesday night, Kylie Jenner gave the Snapchat-viewing world an all access pass inside her mother's brand new closet, including a wall dedicated to displaying Kris' Birkin bags, a collection that has been evaluated at half a million dollars.
Fifteen shiny Birkin's are revealed on a wall that comes complete with a telling sign, created by contemporary artist Beau Dunn, that reads, ironically, "NEED MONEY FOR BIRKIN."
"I'm helping her load in the rest of her purses," Kylie says as she places even more Birkin's, a bag that ranges in price from $12,000 to $223,000, into her mother's closet.
"More little ones here," she says, placing her mother's stash of mini-Birkins among its more more robust couterpart. "Cute," she remarks.
The end result is a fashion-gasm of the highest order, not quite on par with Victoria Beckham's collection of over 100 Birkin's, but definitely enviable if luxury bags are your jam.
Some folks on Twitter were quick to sound off in envy.
While others were quick to call out the Keeping Up With the Kardashians matriarch for her ostentatious display of wealth.
Of course that's just the bags; there's also the shoes.
If Jenner's display proves anything we didn't know it's that — nope, nothing new here — rich people's taste for luxury endures. Now we just have her equally rich (if not richer) daughter to document it all.
Read more: