President Obama Commutes Sentences of Over 200 Federal Inmates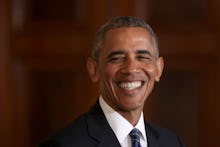 President Obama commuted the sentences of 214 inmates on Wednesday — the most commuted in one day since "at least 1900," according to White House officials.
Wednesday's commutes bring Obama's grand total up to 562, more than the last nine presidents combined, according to the White House.
Of the 214 prisoners on the list, the majority were facing harsh penalties for drug charges; almost all sentences were for nonviolent crimes. Obama's 562 total commutations include 197 people formerly serving life sentences.
According to the White House, it costs $80 billion a year to keep 2.2 million Americans locked up. Roughly half of them are serving time for drug charges, often because of "outdated and unduly harsh sentencing laws."
"Since taking office, President Obama has fought for a smarter and more equitable criminal justice system," the White House wrote in a post. "He has committed to using all the tools at his disposal to remedy the unfairness at the heart of the system — including the presidential power to grant clemency."
While his record of commutations puts U.S. presidents from the last hundred-odd years to shame, law professors say they're still not enough, considering Obama's own outline for getting nonviolent offenders out of prison.
They say Obama's record should be almost three times what it currently is. "Those guidelines," law professor Mark Osler told NPR, "apply to inmates who have spent at least 10 years behind bars for nonviolent drug crimes — small players, not kingpins — people who would've received less prison time if they were convicted of laws on the books today."
Still, 562 might not be the height of Obama's commutation legacy. He still has over five months left in the White House.
"In just the first eight months of 2016, the President has more than doubled the number of commutations granted in all of 2015," Deputy Attorney General Sally Q. Yates said in a statement. "But we are not done yet, and we expect that many more men and women will be given a second chance through the Clemency Initiative."
Read more: