Team China Swimmer Ning Zetao Is Shattering Stereotypes About Asian Men at 2016 Olympics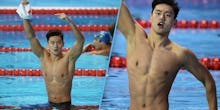 Twitter has a new thirst god and his name is Ning Zetao. That's right, people on social media are freaking out over the 23-year-old Olympic swimmer, who will be representing team China at the summer games in Rio de Janeiro in the coming weeks. And Ning's thirst king status is not only lighting up your feed, it's also shattering stereotypes that Asian men can't be sex symbols.
Ning will compete in the men's 50 meter freestyle and the men's 100 meter freestyle in Rio. There's no shortage of eye candy in the pool at the Olympics (there's Tom Daley, Chris Mears, Jack Laugher) but Ning's intense Twitter celebrity is a reminder to ditch the stereotypes that Asian men are effeminate or unsexy. 
On the most recent season premiere of The Bachelorette back in May, for example, contestant Jonathan Hamilton introduced himself to JoJo Fletcher with a tired joke perpetuating the stereotype that Asian men all have small penises, telling JoJo, "I'm half-Chinese, half-Scottish, but luckily for me, I'm half-Scottish below the waist."
Even mainstream comedians like Chelsea Handler continue to dredge up stereotypes about Asian men and their penises as material. (By the way, a comprehensive 2015 study of penis sizes around the world found that "that most penises fall in a normal range of size" across all ethnicities and nationalities — not that it should even matter.)
And anyway, while we can all appreciate the attractiveness of a impeccably-sculpted Olympian, what we should really celebrate is their talent and athletic achievement. Right? Right?!?
Read more: