Police Brutality Can Be Curbed by Mental Health Care, According to White House Petition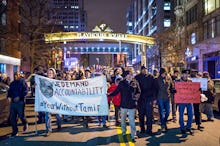 Police brutality remains an epidemic in the United States, but is it also an illness? One activist feels that, to fight the epidemic at its core, we have to pay better attention to the mental health of police officers. 
In a petition filed to the White House's official petition website, activist and social worker Brandyn Gallagher asks President Barack Obama to require law enforcement agencies to make available ongoing, evidence-based mental health therapy to "support them with the tools and resources necessary to be healthy and well-equipped to serve and protect the American people." 
Gallagher told Mic he grew up in a family of law enforcement — his father and stepfather were both officers, his mother was a 911 dispatcher and he had several officers in his extended family, as well. He says that the violence and anger he witnessed in his own family led him to start the petition. 
"Every time I see an officer extrajudicially execute another black person in my Facebook news feed, I see the people who raised me," Gallagher said to Mic in a statement. "I know the skeletons in the closet of American law enforcement intimately. Whatever a man can't do to hurt his wife or his own kid, he can just go to work and take it out on someone with darker skin instead." 
Gallagher said that toxic masculinity means many men often don't have the tools to express their frustrations. But when it happens to police officers who are entrusted to protect us, it costs people of color their lives. 
"That inability — to sit with occasionally unpleasant feelings without escalating to violence because they've never learned how to manage their own feelings — was taken out on Alton Sterling," Gallagher said. "I think most of our problems in this country would end if all public servants were provided therapists they could check in with regularly, just as they are provided bulletproof vests and uniforms." 
According to Gallagher, evidence-based mental health support is the only appropriate tool for addressing widespread mental illness, which, combined with systemic racism, is behind the police brutality epidemic. 
"People have to be equipped to distinguish fact from feelings in order to serve the public well, and therapists exist to help people learn the difference between facts and feelings," he said. 
After the July 20 shooting of unarmed black man Charles Kinsey, video showed that the officer who shot him was unable to rationalize his motive for pulling the trigger. When Kinsey asked the officer why he shot him, the officer replied, "I don't know." 
Gallagher believes therapy can preempt these kinds of bad decisions. 
"We all exist in a dehumanizing system that is killing us," Gallagher said. "Mental health professionals exist to re-humanize us, to help us recognize our own biases and prejudices and to help us safely manage the daily stress that sometimes changes our well-being and the well-being of our communities." 
Gallagher's petition has a deadline of Sept. 1 and currently has 73 signatures. 
Read more: