Potential Vice President Mike Pence Has Declined to Pardon an Innocent Man for 2 Years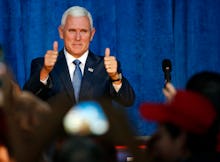 Donald Trump and Mike Pence have proclaimed themselves the "law and order candidates." Yet for two years, Indiana Gov. Mike Pence has refused to pardon Keith Cooper, an innocent man wrongfully convicted of armed robbery and attempted murder in 1997.
It wasn't until 2006 — nearly a decade after his wrongful conviction — that the trial judge cut him a deal and he was released from prison. Despite having been exonerated, he has waited two years for a pardon from Pence that may never come. As BuzzFeed reported, Indiana's parole board unanimously agreed that Cooper should be pardoned — yet Pence has failed to act. 
That means that even though Cooper never committed the crime, his record still says he did. And now, because Pence accepted Donald Trump's offer to run as his vice president, Cooper may have to wait for another governor to take office before he can wipe the prison sentence from his record. 
"Literally, with a stroke of a pen, Governor Pence could make a real change in someone's life," Elliot Slosar, Cooper's attorney, recently told the Indy Star. Without Cooper being granted a pardon, the conviction "prevents him from using his educational abilities to create a better life for family."
It is extremely difficult to find a job post-prison, as any potential employer running a background check would have access to the candidate's criminal records. It's especially unfortunate because steady work for former felons is among our best answers to recidivism — not to mention that it could save the U.S. up to $87 billion annually. 
Pence's failure to issue a pardon is keeping Cooper trapped in a low-paying job as a forklift operator with no possibility of advancement.
"I want my name back," Cooper told the Chicago Tribune in 2015. "I didn't commit the crime, and I feel as though I have the right to go and apply for a job without them looking at my background and seeing that hideous crime that's been placed on my record, for which I'm actually innocent."
The backstory: Cooper and another man, Chris Parish, were pegged as the two men who'd broken into the Elkhart, Indiana, apartment of Michael Kershner and his mother, Nona Canell, BuzzFeed reported. One of the intruders shot Kershner, leaving behind a black baseball cap in his hurry to exit the scene. That cap was tested for Cooper's DNA in both 1997 and 2002, when Cooper appealed the ruling, and came back negative in both cases. 
According to the Tribune, the two men were tried separately and both alleged that they were strangers to one another. Witnesses identified Cooper and Parish as the perpetrators, but later walked back their stories. In 2008, Kershner and Canell both gave statements explaining that they'd been wrong, and suggesting the detectives on the case led them toward an identification of Cooper and Parish. 
"The poor man needs to be exonerated," Kershner said, referring to Cooper. "The man is innocent, I was wrong. Please don't allow an innocent man to be charged with a mistake some of us have made."
That would seem to be exactly what Pence is doing, though: While the governor has pardoned three other individuals who were guilty since entering office in 2013, he has ignored Cooper's case for two years. When asked to comment, Pence's office said in an email that "the case is still under consideration."
"If [Pence] couldn't clean up his own yard," Cooper said in an interview with Buzzfeed, "what's he going to do for the minority people of the United States?"
Excellent question.
Aug. 4, 2016, 1:00 p.m.: This story has been updated.
Read more: