Brain-Eating Amoebas Found Swimming in Waters of South Carolina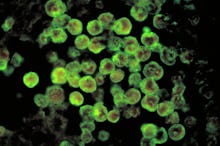 The Centers for Disease Control has confirmed the presence of naegleria fowleri, a potentially fatal "brain-eating" amoeba, in the water in South Carolina.
An unnamed patient is thought to have been exposed to the amoeba on July 24 after swimming around Martin's Landing in Charleston County, according to state epidemiologist Dr. Linda Bell.
Naegleria fowleri can be found naturally in warm bodies of water, but it's extremely rare. Only 40 cases were reported in the U.S. in the last decade.
The drug used to fight the amoeba, called miltefosine, was sent from Orlando, Florida, to Charleston after the case was confirmed, according to Todd MacLaughlan, CEO of Profunda, the company who makes the drug. 
Even though exposure to the amoeba can kill you, actually getting it in your brain is difficult and only happens under extremely specific circumstances.
"First, you must be swimming in water in which the amoeba is present," Bell said, according to the South Carolina Department of Health and Environmental Control. "Second, you must jump into the amoeba-containing water feet first, allowing the water to go up your nose with enough force that the amoeba can make its way to the brain. Most commonly, exposure results in the amoeba dying before causing infection."
Even though cases are rare, no one wants a brain-eating organism wreaking havoc on their motor skills and happy memories, so here are the precautions to take in the instance of being in a warm lake, river or stream: Don't hang out in untreated or poorly treated water; hold your nose if you're planning to jump into that water anyway; don't stir up sediment on the lake bed or river bed.
Or if you do any of that, don't do it with a lot of force — the amoeba can only get to your brain if you help it.
Read more: