A Group of Western Tourists in Afghanistan Just Got Ambushed by the Taliban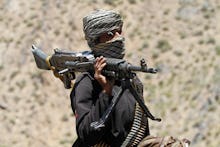 A group of 12 Western tourists traveling by bus in Afghanistan were ambushed and attacked by the Taliban, reportedly injuring at least six people, including five tourists and the driver. They were all taken to hospital for treatment, but none of the wounds are life-threatening. 
The group — which includes Britons, Americans and a German — were en route to Herat City, a cultural center of the province, and were accompanied by military personnel. 
A Taliban spokesman said on social media his group was responsible for the attacks, CBS reports. And the Herat governor spokesperson Jalani Farhad  was also quick to blame the terrorist network.
The fleet of vehicles was traveling through the Chesht-e Sharif district — its roads are well-reputed for their danger. 
"This journey is three days long by road, and most of it is controlled by warlords, thieves and, of course, the Taliban," Qais Azimy, Al Jazeera's Afghan correspondent, said. 
The presence of these tourists and the assistance by the military has produced intrigue and concern. 
"All these things are raising lots of questions; why did these foreigners, in the first place, decide to travel on that road," Azimy added. "No embassy, in no country, would recommend to their citizens to take that road. Everyone knows about the risk."
Read more: