2 Muslims Kicked Off American Airlines Flight Because Flight Attendant Felt "Unsafe"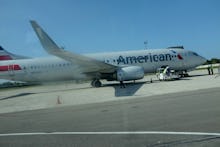 Don't ask for a glass of water if you're a Muslim on an American Airlines flight. You might get kicked out.
Two Muslim women were ejected from a Wednesday morning American Airlines flight from Miami to Washington, D.C., for asking for a glass of water, because a flight attendant said they felt "unsafe" with them on the plane, BuzzFeed reported.
Niala Mohammad, a senior broadcast journalist and producer for Voice of America, and her unidentified friend, who declined to be named to BuzzFeed because she works for the federal government, were on the delayed American Airlines Flight 2239 that was sitting on the tarmac for more than three hours, according to BuzzFeed.
To help the time go by, Mohammad was watching Pakistani dramas on her iPhone. Her friend started conversing with a nearby male passenger about the delay, mentioning that no food or water was given to passengers. It was during this time a male flight attendant approached Mohammad's friend and told her that she could get off the plane if she wasn't pleased with the service. 
"If you have a problem, you can get off the plane," the male flight attendant said, according to Mohammad. 
When Mohammad's friend replied that she was simply "stating facts" and that they were given one glass of water within several hours, according to Mohammad's Facebook post, the male flight attendant allegedly threatened her.
"Well, I can have you removed for instigating other passengers," he said, according to Mohammad.
After experiencing poor customer service, Mohammad took a photo of the flight attendant and asked for his name. A female flight attendant told Mohammad and her friend that the attendant's name is "Rog for Roger" and asked them to delete the photo. Mohammad complied.
Soon after, an American Airlines customer relations representative asked them to come to the front with their belongings. Once they reached the ramp, a number of air marshals and Miami-Dade police officers were waiting to escort the two. 
According to Mohammad, they were kicked off the plane because the male flight attendant felt threatened by them. She also believed their ejection from the plane could have been racially motivated due to their "obviously Muslim last names." 
"When asked why we were being removed, we were informed that it was because 'Rog' felt threatened by us," Mohammad wrote on Facebook. "However, the white male passenger my friend was speaking to was ironically not removed from the plane with us."
This isn't the first time American Airlines removed individuals from their flights allegedly due to race, religion or language spoken.
In April, Cenk Uygur, host of web show The Young Turks, livestreamed being booted off an American Airlines flight on Facebook. Uygur was complaining about the four-hour delay to gate agents, and then was told that the captain on the flight didn't feel comfortable with him on the plane.
In December, four men — three of them Muslim, one of them Sikh — were kicked off of a plane simply because the captain of the American Airlines flight allegedly "felt uneasy" with their presence.
And in December 2015, Mohamed Ahmed Radwan was flying from Charlotte, North Carolina, to Detroit, Michigan, when, according to Radwan's filed complaint, a female flight attendant began taunting him over the public announcing system by saying that she will be "watching" him. Radwan was later kicked off the flight, because she felt "uncomfortable" with him on the plane.
These incidents are not exclusive to just American Airlines or their employees. Mohammad and her friend's story are indicative of the overall discrimination individuals face just for flying while Muslim. 
Moreover, their experiences tell us something more about the scope of anti-Muslim hysteria: That Islamophobia has become racialized. Islamophobia isn't just about the fear or hatred of Islam as a religion, but also of anyone who looks like the "stereotypical Muslim." This could range from Sikhs wearing turbans, a man speaking Arabic or two South Asian woman asking for a glass of water.
Read More: