New iPhone 7 Plus Mock-Up Video Reveals Huge Surprises for Apple Fans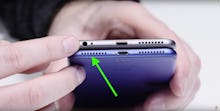 What will the upcoming iPhone 7 Plus look like? The YouTube channel Unbox Therapy just obtained a mock-up of Apple's 5.5-inch device, and there are two surprise features: a purple-blue color and a new docking port that could hint at wireless charging.
Besound, a company in China that produces Lightning-port headphones, developed the mock-up and sent it exclusively to Unbox Therapy, host Lewis Hilsenteger says in the clip. He guides us through the features that differentiate the clone from the existing iPhone 6s Plus. 
Here are a few:
New color: This blue tone is unlike any iPhone we've ever seen.
Two cameras: It's been rumored that the updated camera on the new iPhone will be drastically improved, and the dual-lens system suggests a major update is coming. However, it sticks out in a way that results in a lot of wobbling when you lay the phone on a flat surface.
New docking contact point: This could be the biggest change of all. The three dots on the bottom of the phone could connect to a wireless charging dock, as we saw in a concept video released this week. Unbox Therapy suggests some other ideas for it, including a "keyboard dock" or a "modular camera attachment."
No headphone jack: As rumored, it's been replaced with another speaker grill. It's likely iPhone 7 owners will need wireless headphones or an adapter.
New antenna placement: Check out how the plastic strip goes around the outside of the phone, rather than slicing through the top.
The "iPhone" logo has a larger font size, thinner weight and tighter kerning. This could just be an error by the manufacturer.
The phone is a tiny, tiny bit thinner. Again, it could just be a manufacturer error.
We'll know for sure in early September, when the phone is finally announced — but this video is the most thorough and reliable evidence of the new features we've seen so far. 
"Having done a lot of digging," Gordon Kelly at Forbes wrote, "I'd put a great deal of significance behind this latest leak. ... Keeping a lid on a supply chain of this magnitude is virtually impossible."
Read more: