Donald Trump's campaign website won't let some cancel recurring donations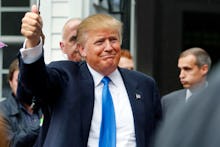 You used to love Republican presidential nominee Donald Trump, but now you've had a change of heart — and want to cancel your recurring monthly donation to his campaign?
Too bad.
As the screenshots below demonstrate, there is no clear option on Trump's website to cancel monthly contributions or remove your credit card information: The site layout makes it appear that once you've set up a donation, you may only switch from one valid credit card to another.
There is, actually, a way to cancel — but only if you register your account by setting a password and navigate through a labyrinthine process.
This design flaw first came to light Wednesday, when CNN reporter Jeremy Diamond tweeted a screenshot of an email from a disenchanted Trump donor who alleged that the campaign has not returned voice message requests to cancel contributions. (The identity of the alleged donor is not shown.)
After investigating, Mic can confirm that there is no easy option to stop recurring donations on Trump's donation site: We set up a recurring donation of $1 and found no button or other obvious way to cancel payments or remove a credit card from the system — either on the homepage, the "update card" page, or in your contribution confirmation email.
Once you're registered, if you try to change your payment information on Trump's site, you will see no option to remove your credit card — only "update" it.
Then, when you click on "update card," you see a page that allows you to alter your payment information — but you cannot completely delete your credit card. You are forced to replace it with another valid card: Invalid numbers are rejected.
Similarly, the email confirmation Trump donors receive does not include any reference to how to cancel payments. While donors can hit "unsubscribe" at the bottom of the email, doing so does not delete your account information from the donations page.
Mic also made a $1 recurring contribution to the campaign for Democratic presidential nominee Hillary Clinton, and received a confirmation email that — by contrast — provides an email address for donors to write in with problems. 
Unlike the message from Trump's campaign, the confirmation from Clinton's also acknowledges that you've made a recurring donation in the first place, warning you to expect a monthly charge.
If you go to Clinton's campaign site, there's also an accessible option to remove your card from the site. Clicking this button immediately halts your donations, a campaign representative confirmed in an email to Mic.
If you log out and log back in to Clinton's site, you can see that your card has been deleted. 
It turns out that there is a way to delete your card from the Trump campaign's system, but it seems you must have first registered an account and created a password: If you did not do so, there is no clear way to cancel your payment.
Assuming you did create an account and have logged in, to stop your payment you must click the small gray question mark icon in the upper right corner of the donations page.
Then you will see the following screen. In order to delete your card, you must click "manage."
Then will you be redirected to the website of the Trump campaign's vendor. There you must click "recurring plans," and only then can you cancel your monthly payment; notably, even after you cancel, there is still no obvious way to delete your card number without replacing it with another valid number.
The Federal Election Commission does not have rules explicitly about the cancellation of recurring campaign contributions, said FEC spokesperson Christian Hilland.
"Our regulations do not speak specifically to that issue," he said. The only way problems with recurring donations would trigger an investigation, he explained, was if the total added up to more than the federally mandated maximum donation of $2,700.
The Trump campaign did not return multiple requests for comment by press time.
Recurring payments are increasingly coming under fire as a way companies get unwitting consumers to pay for services they don't want.
Some businesses are more transparent than others: Spotify, for instance, has a handy "cancel" link right below the button for updating payment information.
Trump's campaign would do well to take a page from Spotify's book.
August 5, 2016, 4:06 p.m.: This story has been updated.
Read more: