Is Hailee Steinfeld the First to Officially Leave Taylor Swift's Squad?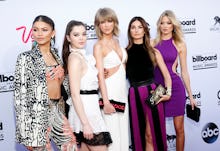 Taylor Swift has been facing a great deal of backlash lately. Now, once-loyal Taylor Swift squad member, actor and singer Hailee Steinfeld, appears to be subtly distancing herself from her leader.
"I think people think we spend a lot more time together than we actually do!" Steinfeld proclaimed in a recent interview with Seventeen when asked about her friendship with Swift. She then clarified her statement by adding that Swift is "amazing though." Because you must never reveal too much when attempting to speak out against an authoritarian regime.
In all fairness, Steinfeld's rebellion may have been brewing for at least a few weeks. Last month, Kim Kardashian West set the Taylor Swift brand ablaze when she posted a video to Snapchat in which Swift could be heard privately approving the Kanye West lyrics that she publicly denounced. 
In the wake of all this drama, various squad members rushed to Swift's defense on Twitter, from Selena Gomez to model Martha Hunt. But what did Hailee Steinfeld have to say in Swift's defense?
Steinfeld portrayed not one but three characters in Taylor Swift's 2014 squad-defining opus "Bad Blood," which gave many the impression that her loyalty was unconditional. And perhaps it once was. 
But she's not the first domino to have fallen in Taylor Swift's squad. Immediately following the Kardashian West beef, Zendaya, who also appeared in the "Bad Blood" music video, reportedly quietly liked some anti-Swift tweets. 
"I'm glad Zendaya was never really down with that whole Taylor squad shit," one of the tweets reportedly said. (Zendaya un-liked the tweet moments later.)
Zendaya, Hailee: Your messages have been received.
Who's next? Karlie? Gigi? Selena? Ryan Reynolds? The possibilities are endless. 
Read more: