USA Gymnastics Reportedly Ignored Years of Sexual Abuse Allegations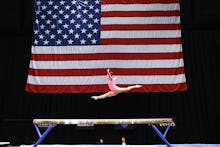 On the eve of the 2016 Olympics in Rio de Janeiro, USA Gymnastics has been accused of routinely ignoring allegations that its coaches sexually abused young gymnasts, according to an investigation by the Indianapolis Star. 
In a thorough and devastating report, the Star found the organization, which acts as the governing body for the U.S. Olympic gymnastics team, dismissed sex abuse claims as hearsay "unless they came directly from a victim or victim's parent." USA Gymnastics reportedly neglected to notify authorities of sex abuse allegations levied against more than 50 of its coaches over several decades for fear the claims would damage accused coaches' reputations. Records show the organization kept scores of complaints "filed in a drawer in its executive office in Indianapolis" instead of referring them to law enforcement, according to the Star. 
"There is no question that USAG is not interpreting the law of our state, but rather their own internal law and system," Shelley Haymaker, a child welfare attorney who represents victims of abuse, told the Star.
In a statement released on Thursday, USAG president Steve Penny said his organization "seeks first-hand knowledge whenever allegations of abuse arise as the most reliable source to take action and as outlined in its bylaws and policies." 
"We find it appalling that anyone would exploit a young athlete or child in this manner, and recognize the effect this behavior can have on a person's life," Penny said. "USA Gymnastics has been proactive in helping to educate the gymnastics community over the years, and will continue to take every punitive action available within our jurisdiction, and cooperate fully with law enforcement." 
USAG's failure to relay reports of abuse to law enforcement may not just be unethical. All 50 states have laws requiring people to report suspected sexual abuse of minors to authorities whether or the account has been corroborated or not. 
Many of the complaints USAG failed to report to authorities have remained sealed under a judicial order because of a 2013 lawsuit filed by Lisa Ganser, the mother of one of the victims. In addition to Ganser's case, the Star uncovered three more instances in which the organization was told about alleged abuse but failed to notify law enforcement or dismiss coaches accused of sexual misconduct. The coaches involved in those cases reportedly went on to molest at least 14 more young athletes.   
In Ganser's case, USAG allegedly lied about whether it had received prior complaints of sexual misconduct by William "Bill" McCabe, who became her daughter's gymnastics coach in 2002. Shortly after Ganser enrolled her daughter at a gym McCabe co-owned, she received an anonymous packet detailing allegations USAG had received about the coach. USAG told Ganser there had been no complaints filed against McCabe, when in fact the organization had been warned of the coach's suspected abuse as early as 1998. 
In a letter to USAG, one of McCabe's former employers claimed the coach had bragged about seeing a 15-year-old athlete in her underwear and that he "would be able to f— her very soon." The letter added McCabe "should be locked in a cage before someone is raped." Another former employer sent USA Gymnastics a fax detailing sexual harassment claims against the coach and included names and contact information of accusers. USAG responded to the first document by saying it was "awaiting an official letter of complaint from a parent and athlete." 
In court documents, the organization's former president, Robert Colarossi, admitted he and other executives wrote the claims against McCabe off as hearsay and declined to investigate them further "because they [were] unsubstantiated allegations." Colarossi said the complaints against the coach were not reported to the authorities, but rather placed in a file. 
McCabe continued to coach gymnastics and to abuse underage victims for nearly a decade after USAG was first notified of his predatory behavior. 
It wasn't until 2006 — years after she contacted USAG about McCabe and kept her child enrolled in his program at its assurance — that Ganser discovered sexually explicit emails on her daughter's computer. She contacted the FBI, who determined the emails came from McCabe, and also discovered the coach had filmed underage gymnasts changing clothes and disseminated the footage online. He was later accused of molesting as many as half a dozen young girls, and is currently serving a 30-year federal prison sentence. 
"USAG may not have been the hand that ultimately abused these innocent children, but it was definitely the arm." 
USA Gymnastics contests that it has an obligation to report third-party allegations like those levied against McCabe. Penny, the group's current president, indicated in a 2015 deposition that the duty to report sexual abuse claims "lies with the person who has firsthand knowledge" of the allegations — i.e., the victim. 
USAG's understanding of what it means to "cooperate fully with law enforcement," as Penny put it Thursday, takes a dangerous approach to reporting sexual abuse allegations, according to the Star. Haymaker, the child welfare attorney, told the newspaper that Indiana law encourages people to "err on the side of precaution" and report all cases of possible abuse, even if victims do not come forward with their own allegations. USAG's failure to report even suspected abuse could be a violation of state law, she said, not to mention a likely means of perpetuating sex crimes against minors. 
"USAG may not have been the hand that ultimately abused these innocent children," Haymaker said, "but it was definitely the arm."