This Hero Recorded All the Music From Frank Ocean's 'Boys Don't Cry' Livestream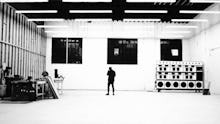 An often-overlooked fact about Frank Ocean's Apple Music livestream: Underneath the musician's continued sawing and hammering, Ocean has been playing music. It's hard to tell what it is, though there's a theory floating around that he's playing the album and this whole charade is actually an extended listening party. 
For all those trying to get a closer listen, one true hero of the internet, SoundCloud user Razputin, discovered by Pigeons and Planes, has been doing God's work. He's recording and isolating the tracks scattered throughout the livestream and uploading them to the net. They're mostly soft, symphonic, ambient tracks — perhaps Ocean's own creations. They're strangely soothing, even with Ocean's tireless construction regularly puncturing the soundscapes.
Viewers have a plethora of theories about what Ocean is building in his lab, with the most prominent one being a spiral staircase. The theory is based on a series of tweets sent in March by user @mishkwan, who said some "dude at a bar" was teaching Frank Ocean how to build a spiral staircase for a music video.
Whatever he's building, and whatever this strange music is, we may not have much longer to wait until we find out. According to a New York Times source with "knowledge of the release plans," the wait ends Friday.
For Ocean's fans who are ready to officially break up with him, that drop couldn't come come a moment too soon.
Read more