Police Blame Instagram for Escalating Events Leading to Death of Korryn Gaines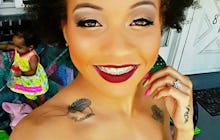 Korryn Gaines, a 23-year-old black woman in Randallstown, Maryland, was shot and killed Monday after an hours-long standoff with police, making her the ninth black woman killed by police this year. The standoff also left Gaines' 5-year-old son wounded.
During Gaines' altercation with Baltimore County Police officers, which was reportedly spurred by officers attempting to serve arrest warrants to Gaines and her boyfriend, 39-year-old Kareem K. Courtney, Gaines filmed a conversation with her son and posted it to her Instagram account.
In the video, Gaines asks her son who's outside — to which he responds, "the police." When she asks what the police are trying to do, the boy says, "they trying to kill us."
After Gaines was killed, police blamed Instagram for "escalating" the standoff into an encounter that ended with Gaines' fatal shooting, contending that some of the comments on Gaines' video encouraged her to disobey police during negotiations, according to the New York Times. 
During negotiations, police said they submitted a request to officials at Facebook — which owns Instagram — to have Gaines' social accounts deactivated until the standoff had ended.
"It's key for these trained negotiators to be able to interact with the subject without distraction, without interference from the outside," Elise Armacost, a Baltimore County Police Department spokeswoman, said at a news conference, according to the Times.
As the Times report points out, Facebook moderators can decide to take down content if it appears to glorify violence — but this isn't an example of that.
Since the July 6 shooting of Philando Castile — a 32-year-old who became the 115th known black man to be shot and killed by police in 2016, and whose death was broadcast live by his girlfriend on Facebook — critics of police violence have advocated for filming police interactions with anyone, especially people of color. While negotiators may not want a suspect to interact with people who might egg them on — frankly, a suspicious reason in the first place — it also means the only story the public has to go on is the one told by police officers.
The case for sharing these stories on social media is made all the stronger by a history of incidents in which police tell a different story than what is later revealed. When Officer Timothy Loehmann shot and killed 12-year-old Tamir Rice in 2014, original police testimony did not match the details that later came out. Also in 2014, Lacquan McDonald was shot and killed by Chicago police officers in what was initially ruled a justifiable homicide, which was contradicted later by dash cam footage, eventually leading to Chicago Police Officer Jason Van Dyke being charged with first-degree murder. 
After Sandra Bland's death was initially ruled a suicide in 2015, the case was later reopened to be treated "as it would be in a murder investigation." Earlier this year, after North Charleston, South Carolina, police officer Michael Slager claimed he wasn't guilty in death of Walter Scott, a bystander video showed the officer shoot Scott in the back, killing him.
So sure, it very well may have been exactly as police told the story: Gaines, with a child in one hand and a shotgun in the other, may have exchanged gunfire with police, and she may have gotten killed after first firing on the advancing officers. But that's not the point. If the police are able to disable their target's social media, hampering their ability to tell their side of the story, that means only two perspectives exist: The words of the police versus the words of the suspect. And in hundreds of cases each year, only one of those stories ever gets told.
Read more: