This Young Iraqi Boxer's Story Is Why We Should All Be #TeamRefugees for the 2016 Olympics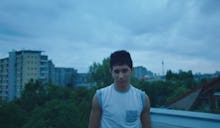 Meet Abdalla.
Abdalla is an 18-year-old boxer from Iraq who will be watching the 2016 Olympic Games from his new home in Berlin.
Abdalla is featured in a new one-minute video for #TeamRefugees, an online global movement in support of the refugee Olympians, where he shares his journey: from a young boy in Iraq fleeing with his family to Germany to training in hopes of becoming part of the next Olympic Refugee Team.
Make no mistake: Abdalla is a boxer first.
In the video, Abdalla says he was kidnapped in Iraq and his parents were forced to leave their home or he would be killed. They embarked on a dangerous journey to finally reach Germany. According to an estimate from the International Organization for Migration, crossing the Mediterranean Sea has resulted in the deaths of 2,443 migrants in 2016, as of May 30.
When Abdalla heard about the first Refugee Olympic Team, he says, he was inspired to train to qualify for the next Olympics as an athlete representing all refugees. 
In January, the International Olympic Committee announced there would be a Refugee Olympic Team competing in the 2016 Rio Olympic Games. There are currently 10 athletes competing, from South Sudan, Ethiopia, Democratic Republic of the Congo and Syria. 
For Abdalla, however, it isn't just about the glory of being an Olympian that inspired him. It's the goal of being a part of a movement that will help the whole world view refugees not with sorrow, but with respect.
Here's to one day seeing Abdalla in the boxing ring for the 2020 Tokyo Olympic Games.
You can watch Abdalla tell his story here:
Read More: