Hillary Clinton's Pursuit of Republicans Is an Uphill Fight — But Could Have a Huge Payoff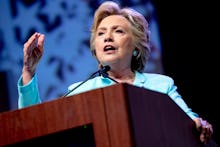 Looking to score a resounding victory over Donald Trump, Hillary Clinton is waging a concerted effort to woo prominent Republicans to her side — an effort that reaped dividends last week with endorsements from Hewlett-Packard CEO Meg Whitman and Rep. Richard Hanna of New York, the first sitting GOP congressman to back the Democratic presidential nominee.
"To vote Republican out of party loyalty alone would be to endorse a candidacy that I believe has exploited anger, grievance, xenophobia and racial division," Whitman, the Republican nominee for governor of California in 2010, wrote on Facebook. "Donald Trump's demagoguery has undermined the fabric of our national character."
Emphasizing that they disagreed with Clinton on a number of policy issues, Whitman and Hanna said it was nevertheless paramount not only to oppose Trump, but to ensure the election of the former secretary of state.
"For me, it is not enough to simply denounce his comments: He is unfit to serve our party and cannot lead this country," Hanna wrote in an op-ed for Syracuse.com. "Secretary Clinton has issues that depending on where one stands can be viewed as great or small. But she stands and has stood for causes bigger than herself for a lifetime."
But even as Trump sows further doubts about his fitness for office by sparring with the parents of a slain Muslim American soldier and appearing to invite a foreign adversary to hack into Clinton's email correspondence, many Trump skeptics in the GOP are adamant that they will never back Clinton.
Much as they may not be enamored of their party's nominee, many of these Republicans have spent their political careers battling Bill and Hillary Clinton — and they're not about to hitch themselves to a Clinton bandwagon they see as weighed down by excess baggage.
"I'm a little disappointed they'd take those positions. I respect those two but don't agree with what they're doing," former Rep. Mike Castle of Delaware said of Hanna and Whitman, explaining that while he hasn't decided whether to back Trump, Republicans opposed to his candidacy would be better off backing third-party candidates like Libertarian nominee Gary Johnson.
A stalwart of the GOP's fading moderate wing, Castle bucks conservative orthodoxy on abortion rights, climate change, gun control and immigration, and Trump's often-inflammatory rhetoric gives the mild-mannered former governor and congressman pause. That would seem to make him a ripe target for Clinton's campaign — but Castle, whose combat with the Clintons includes a 1998 vote to impeach Bill Clinton, said he simply doesn't trust the Democratic nominee.
"My sense is that she just doesn't have the qualities needed to lead our country," Castle said, echoing voters' doubts about Clinton's honesty and trustworthiness — doubts compounded by the revelation that she conducted government business on a private email server as secretary of state.
Former Sen. Judd Gregg of New Hampshire, a center-right Republican who backed Jeb Bush and then John Kasich in the primaries, also plants himself firmly in the #NeverClinton camp.
"Our nominee is neurotic, erratic and narcissistic," Gregg said in an interview. "But the Democrats' problems are bigger than ours."
Gregg contends that while Trump is "one figure" — an aberration from a party that the former senator maintains is fundamentally focused on economic growth and opportunity for all — the Democrats have jolted too far to the left, opting to "become the party of France."
"Their platform is extremely left-wing," Gregg said. "In fact, it's a socialist platform."
Though Gregg hasn't decided whether he'll back Trump — and has ruled out supporting Johnson, whom he called "a nut" — he said he considered the Democrats' alleged "abandoning of the market economy" a greater threat to the country's well-being than "an erratic nominee."
Veteran Republican strategist Rick Wilson, a #NeverTrump stalwart who reportedly plans to assist the independent candidacy of GOP aide Evan McMullin, rejected that line of thinking in a widely noticed New York Daily News column on Sunday.
"As a principled conservative, I loathe the high likelihood that Hillary Clinton will — barring a bear attack or some other unforeseen externality — win this election," Wilson wrote. Trump, however, would be "far worse" and "more dangerous to our safety and our republic," he argued, though Wilson stopped well short of endorsing Clinton.
For party operatives like Wilson — seasoned, but hardly near the end of their careers — a Clinton endorsement would trigger intraparty recriminations, all but foreclosing the possibility of working on a serious national campaign in four years.
A similar calculus is likely at work with anti-Trump lawmakers like Sens. Jeff Flake of Arizona and Ben Sasse of Nebraska. Flake has resisted overtures to back Trump, while Sasse has vowed never to vote for him. Both men — first-term senators who are likely to figure prominently in 2020 speculation should Trump lose in November — are also emphatic that they oppose Clinton.
Sen. Mark Kirk of Illinois, who withdrew his support for Trump following the candidate's attacks on Judge Gonzalo Curiel's heritage, might seem like a more obvious target for Clinton. Liberal on abortion rights, gun control and same-sex marriage but a hawk on global affairs, Kirk is embroiled in a tough reelection fight in his deep-blue state, where he eked out a narrow victory in the GOP wave year of 2010. Though backing Clinton could help Kirk burnish his moderate credentials in Chicago's affluent suburbs, it may lead conservative Republicans in more rural parts of the state to abandon his candidacy. Kirk has said he plans to write in retired Gen. David Petraeus for president.
Those who have bolted for Clinton's camp have much less to lose. Hanna is retiring at the end of his current term. Whitman, who sought the California governorship in 2010 before returning to the corporate world, is exceedingly unlikely to mount another bid for political office. Sally Bradshaw, the longtime Jeb Bush aide who announced last week that she'd vote for Clinton if the race in her home state of Florida is close, is a Bush family loyalist at a time when the GOP seems to have little use for the former first family.
So while Clinton's campaign is reportedly targeting current Republican elected officials, her courtship efforts are more likely to bear fruit with foreign policy veterans in the mold of Richard Armitage — the George W. Bush-era State Department official who endorsed Clinton in June — than with sitting anti-Trump lawmakers, who must balance their revulsion for the GOP nominee with their desires to preserve their political futures and avoid a grassroots backlash.
And as Castle and Gregg attest, even many moderates who have long since left office aren't prepared to jump ship. Old habits — especially partisan ones — die hard.
Moreover, Trump may well be at his nadir following a controversy-plagued two weeks. Should he recover some of his standing in the polls, Trump skeptics will likely face intensifying pressure within the GOP to help the party unite against Clinton. 
Conversely, a Trump surge may prompt a spate of panicked Republicans to come out as Clinton supporters.
G. Terry Madonna, who directs polling for Franklin & Marshall College in Pennsylvania, stressed that even a steady trickle of GOP endorsements could boost Clinton with many Republican-leaning voters — particularly college-educated whites. The NBC News-Wall Street Journal national survey found last week that Clinton bests Trump 47% to 40% among whites with at least a four-year college degree, who backed GOP nominee Mitt Romney by 14 percentage points in 2012.
Such voters may look upon Clinton's forays across the aisle as evidence of a pragmatic, fundamentally moderate governing sensibility. 
In Pennsylvania, Madonna noted, Clinton's substantial advantage with college-educated whites cancels out Trump's overwhelming support with white voters who have only a high school education or less. The Keystone State is state indispensable to Trump's hopes of victory.
"You can't argue that at some point the defection of top Republicans won't have some effect on some Republican voters — obviously not with anti-establishment types, but [Trump] has already wrapped up those voters," Madonna said.
Read more: