Firefighter's House Burned to The Ground Days After He Received a Racist Letter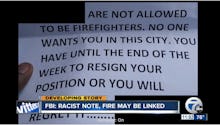 Kenneth Walker is a volunteer firefighter in North Tonawanda, New York. He and his family are homeless after a fire destroyed their apartment on Wednesday. 
Two nights earlier, on Monday night, Walker reportedly received an anonymous letter that said "niggers are not allowed to be firefighters," adding that he had "until the end of the week to resign the position" or else he would regret it.
"We believe it was retaliation," Amanda Walker, Kenneth's wife, told The Buffalo News. "The letter said if he didn't resign from the fire company, he'd regret it." 
No one was home at the time of the fire. Local police, as well as the FBI, are investigating the letter. 
"The FBI has received a copy of the note left at Mr. Walker's residence and we were notified of the fire that occurred there today," the FBI said in a statement, according to WKBW Buffalo. "Our office is conducting a review to determine what investigative steps are indicated under FBI policy with regard to federal jurisdiction in this matter."
Despite the loss of his home, Walker, 28, say he is not planning to resign.
"I'm not going to be intimidated," he told WKBW Buffalo. "I'm not at this point going to resign from doing my job. I'm going to take a long hard look at the situation and see what's best for my family and the end result may be to resign or transfer to a different company, but as of now I'm going to stand fast and see what happens."
Members of the community have since come together to help the Walker family during their time of need. Donations of toys, living supplies and more were accepted at a firehouse in the town, according to CBS News.
A GoFundMe page for Walker and his family has raised over $45,000 as of Thursday. 
Read more: