Katie Ledecky Olympics Livestream 2016: Watch the U.S. Olympic Swimmer Compete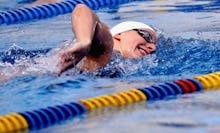 Katie Ledecky is a boss lady of the U.S. national swim team, primed to showcase her skills in Rio during the 2016 Olympics. Sunday for the 19-year-old Bethesda, Maryland, native. Swim fans won't want to miss it — Ledecky is forecasted to clean up.
According to swim website SwimSwam, she's "a heavy favorite to win at least three gold medals." As the Washington Post put it, she's "better at swimming than anyone is at anything."
At the 2012 London games, Ledecky — then just 15 years old — won her first Olympic gold medal in the 800-meter freestyle. Ledecky will be heading to Stanford University after the 2016 Olympics. 
Ledecky is scheduled to swim in the 200-, 400- and 800-meter freestyle events, according to SwimSwam. All Olympic matches are broadcast by host network NBC, and for those who don't have a TV but do have cable, a livestream with a schedule is available here. 
Other U.S. swimmers competing in the 2016 Olympics include Ryan Lochte, Michael Phelps, Missy Franklin, Dana Vollmer and Leah Smith. The U.S. team is stacked with big names for 2016, but it may be the promise of glimpsing newly anointed "thirst god" Ning Zetao of China, glistening and Speedo-clad, that'll really be drawing eyeballs to the Olympic pools of Rio.
Read more: