What to Know About Famed Brazilian Soccer Player Gabriel Jesus, the "Next Neymar,"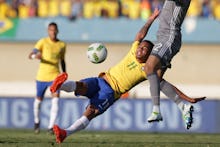 Among Brazil's many soccer phenomena, one to watch closely is up-and-coming star Gabriel Jesus.
At just 19 years old, Jesus is on his way to becoming one of the best soccer players in Brazil. Many even call him "the next Neymar" — a nod to the current Brazilian soccer superstar, who's only 24. A Sao Paulo native who's been playing soccer since he was a kid — who grew up in one of the city's infamous favelas where he played barefoot on concrete, according to the Guardian — Jesus will attempt to help Brazil win its first Olympic gold medal in soccer, a prize that has notoriously eluded the South American country to date.
Here's what you need to know about Jesus before watching him in the 2016 Olympic Games in Rio de Janeiro:
1. Jesus began his career not on grass, but concrete: According to the Guardian, Jesus played street soccer barefoot for years before being discovered and playing amateur soccer in Brazil.
2. He knew he was going to be great: After turning 15, Jesus hired an agent — and was signed to one of Brazil's most prestigious soccer teams, Palmeiras.
3. Jesus is very active on one form of social media: Jesus has over 344,000 followers on his official Instagram page, which features photos of teammates and family. However, Jesus has made it very clear — via Instagram — that he does not use Twitter.
4. His first professional year of soccer was a major success: Jesus won the Best Newcomer award for the 2015 Campeonato Brasileiro Séries A after scoring seven goals in all competitions.  
5. In 2017, Jesus will join one of the biggest soccer clubs in the world: He's slated to join English soccer power Manchester City in January for a transfer fee of €32 million — or $35.6 million — to Jesus' former club, Palmeiras. A transfer fee is money that a team must pay to acquire a player from their former team.
6. Jesus' amazing footwork has made him a YouTube superstar: His seven-minute video on YouTube, "Magic Skills and Tricks," has amassed over 1.9 million views since May.
7. Jesus is already considered one of the best soccer players in Brazil: Jesus, along with another 19-year-old player named Gabriel Barbosa, is considered the future of Brazilian soccer.
"I'm betting on two talents, they're still developing but have a lot of quality," former Brazilian team superstar Cristiano Ronaldo told the Sun. "Gabriel Barbosa of Santos and Gabriel Jesus of Palmeiras are very young talents and haven't even turned 20."
Read more: