'Gilmore Girls' Revival: Scott Patterson Confirms Luke and Lorelai's Relationship Status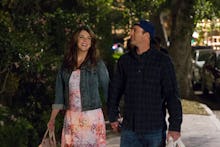 As we eagerly await the Gilmore Girls Netflix revival series, Gilmore Girls: A Year in the Life, to come out in November, fans have already began to speculate as to what might happen in the reboot. The latest theory posits that one of the aforementioned Gilmores is pregnant, per an Instagram photo the series shared Tuesday. (In a season five episode, Lorelai says she only craves apples when she's pregnant.)
Sadly, Scott Patterson — who plays Lorelai's on-again, off-again love interest, Luke, in the show — won't delve into the pregnancy rumors any further. Speaking with People, Patterson elected to be "coy" about the possibility of a Gilmore pregnancy. However, the actor did offer up some revealing information on his character's relationship with Lorelai going forward. 
"I can tell you that we are together," Patterson said of Lorelai and his character. "We are together and we're sort of figuring out our next step." 
Whether that "next step" involves a child on the way remains to be seen, but fans can be rest assured: It looks like Luke and Lorelai will rekindle their romance in the reboot. Considering Netflix already released photos from the revival of the two holding hands — well, we can hope it happens in real time, rather than a flashback or dream sequence. 
Gilmore Girls: A Year in the Life will be available in its entirely on Netflix starting Nov. 25. You can check out the teaser trailer for the reboot below: 
Read more: