'The Great Wall' Director Zhang Yimou Defends Matt Damon Casting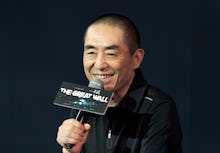 After nearly a week of the trailer for The Great Wall circulating the internet and garnering criticism, director Zhang Yimou addressed the controversy surrounding the casting of Matt Damon in the film's lead role. 
In a statement to Entertainment Weekly, Yimou said: 
In many ways The Great Wall is the opposite of what is being suggested. For the first time, a film deeply rooted in Chinese culture, with one of the largest Chinese casts ever assembled, is being made at tent pole scale for a world audience. I believe that is a trend that should be embraced by our industry. Our film is not about the construction of the Great Wall. Matt Damon is not playing a role that was originally conceived for a Chinese actor. The arrival of his character in our story is an important plot point. There are five major heroes in our story and he is one of them — the other four are all Chinese. The collective struggle and sacrifice of these heroes are the emotional heart of our film. As the director of over 20 Chinese language films and the Beijing Olympics, I have not and will not cast a film in a way that was untrue to my artistic vision. I hope when everyone sees the film and is armed with the facts they will agree.
Yimou's statement comes in response to the internet emitting a collective groan at the trailer's reliance on Damon to tell a story about the Great Wall. 
The loudest voice among the chorus of naysayers was Fresh Off the Boat's Constance Wu, who tweeted out a long criticism of the film. In the tweet, she asked that Hollywood "stop perpetuating the racist myth that [only a] white man can save the world." 
Wu has a documented history of speaking out against Hollywood racism and advocating for diversity in front of and behind the camera. She's previously spoken out against Scarlett Johansson's casting in Ghost in the Shell, a role for which the film's producers tested technology to make her look Asian. 
While Yimou's statement explains the intent behind this particular film, it doesn't explain why the trailer solely highlights Damon. And, as Wu noted in a series of follow up tweets, this isn't about blame and it's not about a single film — it's about systemic issues in Hollywood that keep Asian people out of Asian stories on film. 
Read more: