Nobody Buys Golf Clubs, Balls, and Bags Anymore So Nike Will Stop Making Them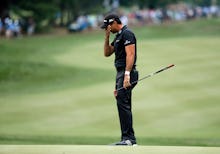 Nike is breaking up with golf. 
The company announced Wednesday that it will fold its golf equipment unit — which makes clubs, balls, and bags — after three straight years of declining sales, although the company will continue to make golf apparel. 
Nike isn't the first major sporting company to make such an announcement this year: Back in May, Adidas announced it was looking to sell the golf unit it's owned for more than 20 years.
Not everyone seems to think golf is dead. In fact, the 2016 Olympic Games in Rio de Janeiro will be the golf's first appearance in the event since 1904.
But it might take more than an event that occurs once every four years to revive the flailing sport. 
The number of people playing golf in the United States dropped by 20% between 2005 and 2015, according to a survey by the National Golf Foundation reported by the Wall Street Journal. And the most common negative word associated with golf in a 2014 version of the same survey?
"Boring." 
A lack of money and leisure time could be another reason for golf's declining popularity: Participating is expensive, and playing 18 holes can take up to four hours.
The sport is also not historically known for being particularly inclusive. The Royal and Ancient Golf Club — a stately Scottish golf club referred to by some as "the home of golf" — didn't admit its first women members until 2015. 
Finally, there is golf's impact on the environment: Watering a single golf course in dry Palm Springs, California, for instance, requires 800,000 gallons of H2O per day. If you believe in protecting the planet, golf might not be the best way for you to pass time.
Both Adidas and Nike are continuing to make golf apparel, but by dropping their equipment units, the first and third most valuable sporting brands in the world seem to be signaling a declining interest in the sport. 
But only time will tell whether golf is stuck in the rough for good.
Read more: