11 Easy Brazilian Food Recipes to Make For a Gold Medal-Worthy Olympic Party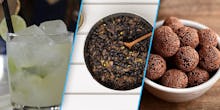 While you might not be able to win a gold medal for your athletic prowess this summer, you can still win one for your Olympic viewing party hosting skills. All you need is a delicious spread of food and drinks — extra points for whipping up Brazilian-inspired dishes, as the 2016 summer Olympic Games will take place in Rio de Janeiro.
Brazilian food is especially good for a crowd, picky-eaters included. "For the most part [Brazilian] food is not spicy, especially dishes that originate in the Southern part of the country," chef Vanderlei Melchior, the head gaucho chef at Brazilian steakhouse chain Fogo de Chão said in an email. Many dishes, like the country's famed cheese bread, are gluten-free too. Plus, most Brazilian feasts include plenty of meat for the protein hungry crowd. 
Don't let any foreign-to-you ingredients intimidate you: There are a number of Brazilian dishes that are quite simple to make — and even easier to eat. Check out the recipes below and whip up a couple for your upcoming Olympics viewing party.
1. Pão De Queijo
These addictive cheese puffs are essentially a chewy version of pop-overs. While chef Melchior notes that they are most commonly served at breakfast, the bread will do just fine served at any time of the day, especially when they are hot and fresh out of the oven. Thanks to a base of tapioca flour, the bread is naturally gluten-free too. Get the recipe here. 
2. Romeu e Julieta 
The name of this dish translates to the names of William Shakespeare's famed star-crossed lovers, Romeo and Juliet. Unlike the couple, this dish won't end with your demise. According to Melchior, this one's a popular party snack in Brazil. Sweet guava paste pairs perfectly with salty but mild cheese for a stacked dish that's a pleasure look at and eat. Best of all there is no cooking involved — just some assembling. Get the recipe here. 
3. Hearts of Palm Salad
"This is a very traditional item that used to be considered as a delicacy, but has gained popularity in recent years," Melchior explained. Hearts of palm is an artichoke-like vegetable that you can buy in cans in the U.S., making it all a cinch to throw together.  Get the recipe here. 
4. Bauru
Serving up a stack of Bauru will take your Olympics viewing party to new heights. Impress your guests with this sandwich that's a more interesting take than your classic deli sub. It includes layers of roast beef, plenty of melted cheese, tomato and pickled cucumber all on a soft, white roll. Some like to amp it up with the addition of a fried egg or bacon too, Melchior said. Get the recipe here. 
_____________________________________________
Read more: 
5. Yuca Fries
6. Salpicão
This dish is a Brazilian version of a chicken salad, Melchior said. It's typically made with shredded poultry and vegetables like tomatoes, carrots and celery. Some add raisins to the mix for sweetness and potato sticks for crunch, according to Easy Brazilian Recipes. Sounds pretty good, no? Get the recipe here. 
7. Feijoada 
This dish takes a few hours to cook, Melchior noted, but it's worth it if you're looking to serve something a bit heartier. Feijoada is a black bean and meat stew that traditionally features pork in multiple forms. Consider busting out the slow cooker so you can set it and forget it. Get the recipe here. 
8. Creme de Papaya 
This dessert, which is popular at Brazilian steak houses, consists of ripe papaya blended with vanilla ice cream until smooth, Melchior said. The dish is often topped with a creme de cassis, a blackberry liqueur, for an added layer of flavor packed with a slighty boozy punch. Get the recipe here. 
9. Brigadeiros 
Brigadeiros are Brazil's take on the fudgey chocolate truffle. Chocolate is cooked with condensed milk until thick and then rolled into bite-sized balls, which are covered with chocolate sprinkles, Melchior explained. The treats are popular at birthday parties in Brazil, he added, and will likely be a hit at your party, too. Get the recipe here. 
10. Bolinho
Bolinho means miniature cake, Melchior said, and they can be either sweet or savory. Bolinho de chuva, for example, is a donut-like dish that is sprinkled with cinnamon and sugar, while bolinho de bacalhau is made from a mixture of codfish and potatoes. Make both to placate both the two different palates at your party. Get the recipes here and here. 
11. Caipirinha 
No Brazilian-themed festivity is complete without a caipirinha. "This is the national cocktail of Brazil and you can find it everywhere in the country," Melchior said. The drink is made with cachaça, a spirit that is distilled from sugarcane juice, and plenty of lime juice. Caipirinhas are incredibly refreshing, so make a big batch, because the drink will go quick. Get the recipe here.