Sarah Jessica Parker Doesn't Identify as a Feminist — Despite Having Feminist Beliefs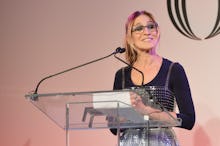 Sarah Jessica Parker believes in equal pay for equal work and supports equality among genders. But make no mistake: She is not a feminist.
"I am not a feminist. I don't think I qualify," the Sex and the City star told Marie Claire for their September cover story. "I believe in women and I believe in equality, but I think there is so much that needs to be done that I don't even want to separate it anymore. I'm so tired of separation. I just want people to be treated equally."
Despite her flag being firmly planted in the "Female Celebrities Who Aren't Feminists" camp, Parker does hold some views that intersect with the stated goals of feminism, which is "the belief that men and women should have equal rights and opportunities," according to Merriam-Webster. 
For instance, she believes in closing the gender wage gap:
"I would like all of that nonsense to end. I would like women to get paid for the value of their contributions, not by old-fashioned ideas about gender," Parker said.
She also expressed support for two of her colleagues, self-avowed feminist actresses Jennifer Lawrence and Emma Watson:
"Listen, Jennifer Lawrence deserves every bit as much as her male counterpart," Parker said. "It's indisputable." 
Emma Watson, she said, "is an amazing young woman, and it's important for her to talk about women's issues. She isn't concerned about herself. Women are paying the bills, getting it done, getting the kids here and there. The more we address that, we are all going to be better."
Parker is clearly a woman of many contradictions; at another point in the article, she tells Marie Claire that, while she does love shoes, she also loves "books and architecture and politics and other people and travel and conflict."
The irony of Parker's non-feminism was not lost on her fans, who tweeted their disappointment in the star for becoming the latest in a string of Hollywood women seemingly unwilling to describe themselves as feminists — while simultaneously not bothering to learn what a feminist actually is.
Read more: