Will There Be a 'Star Wars' TV Show? ABC and Lucasfilm Are Contemplating It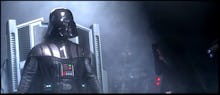 While we've made many trips to a galaxy far, far away since the release of A New Hope in 1977, a live-action Star Wars series has never graced the small-screen. But at a time when Disney CEO Bob Iger has stated he can see Star Wars continuing with new installments for the movie franchise in the very foreseeable future, it's unsurprising that the company is now considering producing its first live-action Star Wars TV show. 
Speaking Thursday during an ABC panel at the Television Critics Association, per Deadline, ABC entertainment president Channing Dungey was enthusiastic about the possibility of a Star Wars show on the network, which is owned by Disney. 
"As a fan, I would absolutely love to say yes," Dungey said. "We have had conversations, and we will continue to have conversations with Lucasfilm. It would be wonderful to extend the franchise." 
It's nothing remotely definitive — Dunger later clarified, according to Entertainment Weekly, that there's no official timeline and that everything is "hush-hush" — but Lucasfilm would be wise to capitalize on Star Wars' momentum after the critical and financial success of The Force Awakens. Moreover, the franchise's longtime sci-fi competitor (at the very least, because they're both set in space) Star Trek has moved forward with its own series reboot on CBS' streaming service All Access. 
Really, the question is, if Disney eventually went through with it, when and where a potential series would take place. We'd be fine with anything that doesn't include trade federations disputes or Jar Jar Binks — or sand. 
Read more: