Rio 2016 Olympics: 14 Photos That Show You The Other Side of Rio de Janeiro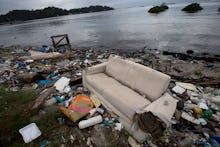 The 2016 Summer Olympic games being hosted by Brazil in Rio de Janeiro has been plagued with scandal — from its potentially detrimental impact on poverty to water pollution to Zika. 
While images of toned, Olympic hotties and beauteous beaches saturate the internet, there is another, less idyllic face of the country bubbling below the surface. It's a face of destitution, garbage and disrepair. 
It is the byproduct of an event that cost billions of dollars while the country is floundering in the worst recession it's seen in around a century. Rio de Janeiro's governor even declared a financial state of emergency in June, saying it was needed to prevent a "a total collapse in public security, health, education, transport and environmental management," the Guardian reports.
Here are 14 photos which reveal the underbelly of the Olympic beast, an institution which has itself been mired in wrongdoing. 
Much of the world awaits to discover if the games were doomed before they began. 
Read more: