6 Things About Rio 2016 Olympics Star Katie Ledecky You Need to Know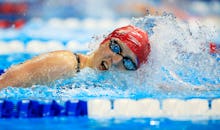 At just 19 years old, Katie Ledecky can already be considered a swimming legend. The Washington, D.C. native's resume is truly staggering — she has multiple world records, despite still being in the early stages of her career, and has supplanted Missy Franklin as the face of U.S. women's swimming — in other words, she's the equivalent of Michael Phelps on the women's side. The 2016 Rio Olympics is expected to only further her notoriety. 
Here are seven things to know about Ledecky ahead of the Olympics: 
1. Katie made her mark on international swimming four years ago, impressing at the U.S. trials by winning the 800 meter freestyle event, sealing her spot as a competitor in London at just 15 years of age. She did one better at the 2012 Summer Olympics in the 800, taking the gold medal in London and coming within .53 seconds of the world record.
2. That breakthrough London performance has only propelled Katie to set 11 world records as of now, breaking her own historic marks in the 800 and 1500 meter freestyle
3. It should come as no surprise then that Ledecky arrives in Rio 2016 in top form. She was named swimmers of the meet last month in Omaha, winning the 200, 400 and 800 meter freestyle events. 
4. Katie's prodigious accomplishments include attending Stanford University, though currently she's deferred enrollment until after Rio. 
5. Katie was the youngest person this year to make TIME's 100 list.
6. Being a D.C. native, Katie is a big Washington Nationals fan, which was best captured by her reaction to witnessing Jordan Zimmerman pitch a no-hitter. She shared the moment on social media. 
.Read more: