President Obama Tells Off Donald Trump Over "Ridiculous" Claims Election Will Be Rigged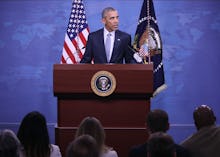 President Barack Obama isn't going to keep Republican nominee Donald Trump away from classified security briefings — but he does want him to lay off "ridiculous" claims that the November election might be "rigged."
"I don't even really know where to start on answering this question. Of course the elections will not be 'rigged.' What does that mean?" Obama asked while speaking at a Pentagon news conference.
The president came thisclose to essentially calling Trump a big baby for implying that his general election showdown against Hillary Clinton could be fixed in the Democrats' favor.
"I think all of us at some point in our life have played sports or maybe just played in a schoolyard or a sandbox and sometimes folks, if they lose, they start complaining they got cheated," Obama said. "But I have never heard of someone complaining of cheating before the score is tallied."
The president took umbrage at what he called Trump's "conspiracy"-minded chatter.
"If Mr. Trump is suggesting there is a conspiracy theory that is being propagated across the country, including in places like Texas, where it is typically not Democrats in charge of voting booths, that is ridiculous," Obama said. "We do take seriously our responsibilities to monitor and preserve the integrity of the voting process."
_____________________________________________
Read more:
His suggestion to the GOP hopeful?
"Go out there and try to win the election. If Mr. Trump is up 10 or 15 points on Election Day and ends up losing, then maybe he can raise some questions. That doesn't seem to be the case at the moment," Obama said in a reference to a series of new polls showing the Manhattan real estate magnate in rough shape versus Clinton.
As far as Trump's reportedly eyebrow-raising remarks about national security, the president said the country will follow protocol when it comes to the intelligence briefings customarily offered to the nominees.
"I'm not going to go into the details of the nature of the security briefings that both candidates receive. What I will say is that they have been told these are classified briefings," Obama pointedly told reporters at the Pentagon following a meeting on the fight against the Islamic State terror network.
"If they want to be president, they have to start acting like president, and that means being able to receive these briefings and not spread them around," the president said.
When a reporter asked, "Are you worried about that?" the president replied, "I think I have said enough on that."