'Big Brother 18': A Backdoor Eviction Leads to a Snitch on the Way Out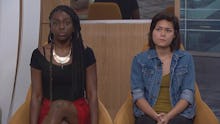 It's eviction night on Big Brother and tensions are high. The houseguests are walking on eggshells, since no one knows which contestant is holding the Round Trip Ticket. Whoever has that will walk right back into the house after they're evicted, so it's not a great idea to piss anyone off too much, even if they're getting evicted. It's a whole new game.
Da'Vonne and Bridgette are on the block, and a lot of the house is ready to send Da'Vonne home. 
After James lets it slip that he would nominate Bridgette and Victor if next week is the double eviction, Da'Vonne realizes he's planning to vote her out this week. Awkward.
Da'Vonne confronts James, and asks him and Natalie to vote to save her this week. Natalie tells James she will follow his lead.
Eviction
All of the current contestants will be members of the Big Brother jury, meaning they will all be sequestered in a house together until the season is over and will choose the show's winner. 
The majority of the house, including James, votes to evict Da'Vonne. The vote is six to two. 
"I knew it," Da'Vonne tells host Julie Chen when she exits the house. 
Da'Vonne whispers something to Victor on her way out the door. Julie asks her what she said to Victor. She tells Julie that she told Victor that the rest of the house was planning to nominate him during the double eviction. "She snitched," Da'Vonne says, referring to herself. Twitter loved it.
Da'Vonne doesn't have a Round Trip Ticket, so she can't return to the house. Instead, she will be the first member of this season's Big Brother jury.
Head of Household competition
After Da'Vonne's eviction, the contestants compete for Head of Household. This week's Head of Household competition is called "Harsh Hashtags." The houseguests have to stand on little disks attached to ropes, hanging from the ceiling. The ropes swing around in a circle, throwing the contestants into big signs with rude hashtags written on them. 
They are allowed to squat down on the disk, but cannot sit on it or fall off, or they will be eliminated. There are also "internet trolls" (people dressed up as trolls, wielding bats) who are ready to hit the contestants when they fall. The first three houseguests to fall off will be Have Nots for the next week.
Find out who won Head of Household on Sunday at 8 p.m. Eastern on CBS.
Read more: