Donald Trump Headed to Smallest Share of Black Vote in Modern History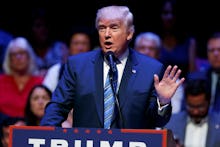 Omarosa alone can't solve this one.
Though Republican presidential nominee Donald Trump has sought to make inroads with African-American voters — tapping former Apprentice contestant Omarosa Manigault to lead his outreach effort — recent polls show the real estate tycoon could post the worst showing among black voters in modern history.
Recent polls from McClatchy-Marist, NBC News-Wall Street Journal and Fox News show Trump registering between just 1% and 2% of the black vote — findings that come on the heels of polls in Ohio and Pennsylvania showing him winning 0% of blacks in those swing states.
Such a showing would likely mark the worst performance by a GOP presidential nominee since pollsters started tracking demographic groups' votes. Sen. John McCain of Arizona currently holds the record low, having garnered just 4% of the black vote in 2008, when then-Sen. Barack Obama was elected the nation's first African-American president.
_____________________________________________
Read more:
Trump may even be on track to win a smaller share of African-Americans than Sen. Barry Goldwater won in 1964, when the staunchly conservative Arizonan campaigned in opposition to the Civil Rights Act. Goldwater won 6% of nonwhite voters that year, according to Gallup.
Why it matters: Trump's dismal performance with blacks — many of whom remember well his history of fighting housing discrimination suits and asserting that President Obama was not born in the United States — could pose a major hurdle in key swing states with high concentrations of African-American voters.
Recent polling shows Clinton modestly ahead in Virginia and deadlocked with Trump in North Carolina, states where blacks comprise 20% and 22% of the population, respectively — compared with 13% of the population nationwide. A shock poll from the Atlanta Journal-Constitution on Friday also found Clinton leading Trump 44% to 40% in Georgia, which hasn't backed a Democratic nominee since 1992 but where a strong showing among blacks in the Atlanta metropolitan area could push Clinton over the top.
If Clinton is able to lock down Virginia and North Carolina — let alone Georgia — Trump's path to the presidency is all but foreclosed, even if white working class voters propel him to victory in states like Ohio and Pennsylvania.
Notably, Trump's basement-level support with blacks comes despite predictions that his populist message on trade and immigration would help him curry favor with African-Americans.
"The African-Americans want jobs," Trump said in May. "You look at what's going on, they want jobs. And we're going to bring back our jobs and save our jobs, and people are going to have great jobs again."
But while Trump pitches himself to black voters as a jobs president, they're far from keen on the idea of awarding him with a new one.