This Mom Issued an Epic Clapback After Being Told That Her Bikini Wasn't "Appropriate"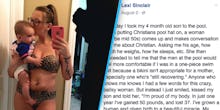 All Lexi Sinclair wanted to do was enjoy some family time at the pool with her four-month-old son — but then a bunch of body-shamers had to go and ruin it. 
Earlier this week, in a Facebook post that has now gone viral, Sinclair shared what went down: Sinclair was at the pool with her young son, Christian, minding her own business, when an older woman approached her. At first, the woman asked a series of questions about Christian, but then, the subject veered back to Sinclair. 
"She then proceeded to tell me that the men at the pool would feel more comfortable if I was in a one-piece swim suit because a bikini isn't appropriate for a mother, especially one who's 'still recovering,'" wrote Sinclair, who lives in Kansas City, Missouri. 
Of course, Sinclair had some choice words for this woman, but rather than lash out, she smiled, kissed her son, and told this woman exactly how she feels about her body, a body that has given birth to a child and a body that has nothing to do with a man's comfort level. 
"I just smiled, kissed my son and told her, 'I'm proud of my body. In just one year I've gained 50 pounds, and lost 37. I've grown a human and given birth to a beautiful miracle. My body provided food for my child. So, no, my body might not be the best sight for other men to see,'" she wrote.
"'My stretch marks and tummy pudge might not be sexy. But they're proof that I've done something amazing, and I have a man that loves me and finds me even sexier and more beautiful now. To be honest, I don't give a tiny rats ass what other men, or a prissy twit like you think. Have a nice day though.'" 
In the photo posted alongside Sinclair's powerful words, Sinclair stands in the leopard-print bikini that so shocked those pool-goers, kissing her son on the head. So far, the post has been shared more than 17,000 times, with commenters overwhelmed by Sinclair's powerful words. 
"We changed our lives to insure the life we were creating would have no harm," one commenter wrote. "We did something that no man can do. Why would I try and help a man 'feel more comfortable' with my body, when they know nothing in the art of creating life." 
Another: "I've been working my ass off for a year to get back to my old body because I'm embarrassed, but stuff like this makes me have a little more courage to be able to wear my cute two-piece bathing suit knowing that others are going through the same thing but still do it anyways. I'm sorry you had to go through that." 
In posting her message, Sinclair joins the many other new mothers who have taken to the internet to try to remove the stigma and shame associated with post-baby bodies. Just earlier this week, blogger Olivia White shared a picture of her post-baby body with the caption, "Puffy face, droopy milk-filled boobs, wider hips and belly full of stretch marks! That's my post-baby reality, no 'bouncing back' here!" 
And back in April, blogger Constance Hall shared hers, along with a message that no new mom should be ashamed of her body. 
What Sinclair's story proves is that although some people remain concerned about what a woman's body looks like after childbirth, mothers like her just don't have the time. Guess they're too busy being great moms to care. 
Read more: