Teen's Viral Post Shows What Diabetes Really Looks Like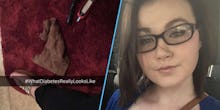 Madeline Milzark was sick of seeing people jokingly use the hashtag #diabetes on social media photos of candy and fried food. So the 18-year-old, who has Type 1 diabetes, decided to share her actual experiences with the disease in a powerful Facebook post.
"Diabetes isn't your piece of cake, or that super-sized McDonald's meal with extra fries, or anything you see coated with sugar," Milzark wrote in the viral July 19 post. "Diabetes is an 18-year-old girl sitting on her bathroom floor shaking and not able to breathe because her blood sugar dropped ... It's a 9-year-old boy who is trying to play outside with his friends and ends up being carted away in an ambulance because he went unconscious when he didn't feel his sugar slipping."
"I originally posted the piece because I had low blood sugar, and I finally had enough," Milzark told the BBC. "So many people post jokes about my disease, even people on my 'friends' list, yet they don't see me when I'm unconscious or when sugar actually saves my life."
Her post clearly stuck a chord with many — it's been shared thousands of times, and Milzark recently added an update saying she is "overwhelmed by the positive response" she's gotten after sharing the post.
Milzark set up a special Facebook page to share updates about her experience with diabetes, and is now raising money to pay for an insulin pump. In a Facebook post last week, she wrote that she hopes spreading awareness about the disease will make people feel less alone: "If I can use my experiences to help other people feel like they don't have to hide, if I can help at least one person change their mind about giving up — then every single thing I've dealt with because of this disease is so worth it."
Read more: