July Jobs Report Shows U.S. Added 255,000 Jobs, Wages and Labor Participation Is Rising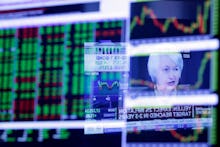 The Labor Department's July jobs report beat expectations this morning by adding 255,000 jobs in the last month. Labor force participation climbed as well, to 62.8%, from 62.7% in June.
That's significantly higher than expected, with economists initially projecting that the U.S. would add only about 180,000 jobs. Hourly earnings also climbed about 2.6% year over year.
Unemployment held steady at 4.9% on average, though rates varied for different groups:
Adult men (4.6%)
The reason jobs numbers can rise while unemployment stays the same is that unemployment measures only those people who are actively looking for work: The rise in labor participation suggests a growing number of Americans — who may have been discouraged after the recession, and stopped looking for work — are back on the market.
Another piece of good news: Full-time positions are increasingly available.
And, though it might not feel like it for some, average wages are also rising.
Mark Hamrick, a senior economic analyst at Bankrate.com, said in an email to Mic that the "somewhat reassuring report" boded well for Democratic presidential nominee Hillary Clinton, because "it is hard to construct a realistic scenario where the U.S. economy looks substantially different from now when voters head to the polls."
In other words, good news on jobs while a Democrat is in office is good for the Democratic nominee.
Read more: