Dylann Roof and George Zimmerman Were Assaulted in Separate Incidents This Week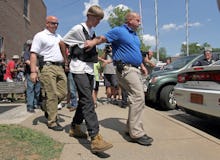 Dylann Roof and George Zimmerman were both physically assaulted this week in what can fairly be chalked up to a bizarre cosmic coincidence.
Zimmerman was punched in the face at a restaurant in Sanford, Florida, on Sunday, according to ABC News. The 32-year-old is best known for his acquittal in the death of Trayvon Martin, an unarmed black 17-year-old whom Zimmerman stalked, fought and shot to death in Sanford in February 2012. 
Zimmerman was showing his ID to a man who had reportedly asked him to prove he was, in fact, the person who killed Martin. Witnesses told ABC News that Zimmerman was bragging about shooting the teen. Zimmerman denied this allegation.
Another man — described as a "white male with a blonde beard" and tattoos — approached Zimmerman and punched him in the face. He then left on a motorcycle after restaurant staff "deescalated the situation."
Police officers arrived on the scene after the assailant had gone. No one was arrested in the incident, according to reports.
Early Thursday morning, more than 360 miles to the north, Dylann Roof was on his way to the showers in the South Carolina jail where he is being held when a black inmate, Dwayne Stafford, attacked him, according to the New York Times. 
Roof sustained minor injuries and bruising on his face and back, but does not wish to press charges, his attorneys told the Charleston County Sheriff's Department.
Roof, a 22-year-old white supremacist, faces federal criminal charges for killing nine black people at a Charleston, South Carolina, church in June 2015. The shooting reignited debate about the Confederate flag, among other things, leading to the emblem being removed from the South Carolina state house.
Roof has been relatively quiet since getting locked up last June. But Zimmerman has made frequent headlines for being generally terrible. He has been arrested or charged for domestic assault multiple times since 2013. In May, he auctioned off the gun he used to kill Martin, netting $250,000 in the transaction, according to the New York Daily News.
Read more: