Hackers Might Try to Trick You Into Paying a Ransom for Your iPhone — Don't Fall for It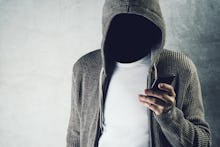 Hackers are tricky, but don't be fooled. 
Some hackers are hacking into your iCloud account and demanding a ransom, according to Dutch site Appletips. Lucky for you, they're full of shit: The hackers don't actually have control of your iPhone. They're just trying to scare you into giving them money.
Here's what the hack looks like: You'd get a message on your iPhone's lock screen saying something like, "This device is locked. Unlock $50. Email for details: helpappledevice@gmail.com." 
Nice try! Your iPhone isn't actually locked. You can unlock it the way you normally would. No need to send anyone any money. 
Here's what's actually happening: The hacker has access to your iCloud account and is using the Find My iPhone feature to put a message on your lock screen. The feature is meant to be used when you've lost your iPhone, so you can alert whoever finds it that it's been lost and provide a way to get it touch on your lock screen. 
The hacker has your iCloud username and password and can probably see whatever you have in your iCloud account, like your photos, notes and contacts. That's not great, but they definitely don't have remote access to your iPhone. 
Here's what you should do: To kick the hacker out of your account, just change your iCloud password. Make sure you have two-factor authentication enabled, which sends a code to your phone and requires you to input it, along with your password, when logging into your account. 
Read more: