This Muslim Woman Was Detained and Interrogated at a UK Airport for Reading a Book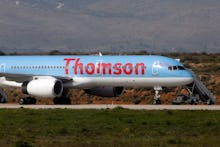 After spending her honeymoon in Turkey, Faizah Shaheen arrived home to a rude awakening. Upon landing at Doncaster Sheffield Airport in the U.K., Shaheen was detained and interrogated by police after a Thomson Airways crew member had reported her two weeks earlier for "suspicious behavior." 
The behavior in question? The 27-year-old British psychotherapist had been reading a book called Syria Speaks: Art and Culture from the Frontline.
According to the Independent, Shaheen was questioned for 15 minutes under the country's Terrorism Act. "I was queuing at passport control and saw police staring at me," Shaheen told the outlet. "I just got through passport control and then two police officers approached me and took me aside and asked me to show my passport again."
Shaheen explained to authorities the cruel irony of her detention: Part of her job as a psychotherapist at England's National Health Service includes preventing the radicalization of young people with mental health issues.
"I said that to the police," she told the Independent. "I'm actually part of trying to fight radicalisation and breaking the stereotypes."
Earlier this week, two Muslims were kicked off a flight because, after asking for a glass of water, a flight attendant felt "unsafe." On Friday, a Muslim couple was reportedly ejected from a flight for saying "God" in Arabic, which made a crew member "uncomfortable." Other Muslims deigning to travel by plane have gotten into trouble for asking for a soda, for sitting in a different section than their friends and for wearing a T-shirt with Arabic writing on it; now "reading a book" joins the list.
A statement from a Thomas Airways spokesperson, as reported by the Independent, reads: "We appreciate that in this instance Ms. Shaheen may have felt that over-caution had been exercised. However, like all airlines, our crew are trained to report any concerns they may have as a precaution."
Shaheen wondered if people would have had the same concerns — if the same "over-caution" would have been exercised — had she not been Muslim.
"Instead of reminiscing about our honeymoon, I am left talking about this experience," she told the Independent. "I do question if whether [sic] it would be different if it was someone who wasn't Muslim."
Read more: