"Cool Pope" Francis Just Went Full Uncool With These Transphobic Remarks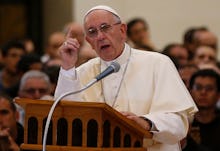 At the beginning of Pope Francis' reign as leader of the Roman Catholic Church and all its dominion, people from across the globe hailed him for his progressive attitudes, hopeful that the election of a pope who acknowledged man-made global warming and welcomed divorced parishioners with open arms might be an augur that a more accepting era of the church was imminent.
But on Wednesday, those optimistic that Francis would serve as a beacon of liberalism to help guide the church out of a mire of regressive attitudes and scandals received a rude awakening, after learning he referred to the conversation surrounding gender as "a moment of annihilation of man as image of God," the Associated Press reported.
A transcript released by the Vatican shows that during a closed-door meeting with bishops in Poland last week, Francis said teaching children that it is possible for them to "choose their gender" is equivalent to "ideological colonization," the New York Times reported.
"Today, in schools they are teaching this to children — to children! — that everyone can choose their gender," he said, adding that his predecessor, Benedict XVI, had previously called today "the epoch of sin against God the Creator," according to the AP.
With those statements, the last vestiges of the idea of Francis as some kind of progressive bellwether eroded away. It has finally become abundantly clear: Pope Francis is not "woke."
While some might be willing to perform the moral and mental gymnastics necessary to justify the idea that a pope who openly addresses issues like poverty and advocates for the rights of refugees is a sign the church might be on the brink of an era of change and openness, the facts do not support that theory. 
Someday, the Roman Catholic Church might warm itself to the ideas of same-sex love, gender fluidity and women's reproductive rights, but Francis' recent comments prove we are not anywhere close to living in that age.
Read more: