Does Tinder Hurt Your Self-Esteem? This Study Says Yes.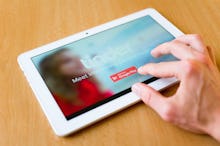 Tinder has given the world many things: an upcoming (crappy-sounding) movie; a subject for concern-trolling thinkpieces about the dangers of hookup culture; and lots and lots o' gonorrhea, if you go by numerous state health department reports. 
Another gift the hookup app has bestowed upon the world? Mental health issues. Surprise! Who'd a thunk that an app that allows people to assess each other based solely on superficial criteria would give you low self-esteem? 
According to a paper presented at the 2016 Annual Convention of the American Psychological Association, which surveyed more than 1,000 men and women of college age, men who used Tinder were more likely to suffer from low self-esteem than men who did not use the app. They were particularly prone to feeling self-conscious about their physical appearance — which is not super shocking, considering the app relies on people making snap judgments about other users' faces and bodies. 
"Consistent with our other findings, using Tinder was associated with more distress, but particularly for men," the researchers wrote. "The shame and hurt men experience as a result of rejection and 'ghosting' ...  is a common discussion theme on other social media platforms, such as Reddit." 
Of course, there's a fairly good reason why male Tinder users have low self-esteem: Tinder's user base largely skews male, with one study finding that 62% of Tinder users are men. Because the gender ratio gives women a competitive advantage, making it much easier for them to get matches, it makes sense that men would be more self-conscious about their physical appearance as a result of using the app.
That said, considering how many bona fide creeps and pervos are running wild on Tinder, maybe it's not such a bad thing for dudes to keep their egos in check and get a lil' dose of low self-esteem every once in a while. After all, men reap the benefits of the patriarchy on a regular basis — for once, let them see how it feels to have the cards stacked against them.
Read more: