Asking Stephen Colbert About 'Lord of the Rings' Will Practically Put You in Middle-Earth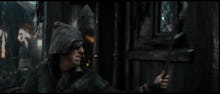 While Stephen Colbert has spent most of his time on TV as the conservative caricature on The Colbert Report, fans of the late-night host know one indisputable fact about his true self: The man loves his Lord of the Rings. He bested James Franco in a Lord of the Rings-themed trivia game and even made a subtle cameo in The Hobbit: The Desolation of Smaug. 
So when audience members at The Late Show ask Colbert a question about the series, they should expect to be thrust into Middle-earth's extensive lore. The late-night show's YouTube channel shared some of Colbert's pre-show answers to such questions, with the host giving detailed responses to who his favorite character from the series is (it's Samwise Gamgee, the real hero of the novels) and which character he'd love to have on the show for an interview: Gandalf. 
Naturally, Colbert explains why he'd pick Gandalf for an interview — you know, cause he's a Maia who has "been in Arda since Ilúvatar cried 'Eä.'" Readers of J.R.R. Tolkien's The Silmarillion might be familiar with the reference, but for everybody else: What the heck is he saying? 
"So that makes sense, right?" Colbert concludes to a small round of applause from the audience — who were likely equal parts impressed and confused by Colbert's Wikipedia-esque mastery of Tolkien's Middle-earth. In hindsight, it's incredible to think James Franco even thought he could compete with his knowledge. 
You can check out both of Colbert's Lord of the Rings responses in full below: 
Read more: