People Can Now Donate Money to Dwayne Stafford, the Man Who Beat Up Dylann Roof in Jail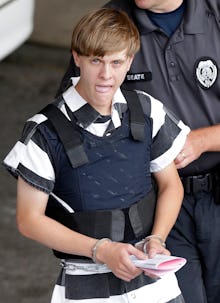 Shortly after news broke that Dylann Roof had been assaulted in a Charleston County jail Thursday morning, Twitter users — some jokingly, some seriously — suggested his assailant might see a bump in commissary funds as a result.
Turns out, they could be right.
TASAD, or Taking a Stand Against Discrimination — a website that provides contact and other information to help people take action in racial discrimination incidents — has set up a page directing visitors to attacker Dwayne Stafford's discretionary spending account in jail, so that people can send money to it.
The Charleston County Sheriff's Office did not immediately respond to Mic's request for comment on whether the account has seen an uptick in contributions of late.
Dylann Roof is generally unpopular among black Americans, and for good reason.
The 22-year-old white supremacist stands accused of shooting and killing nine black men and women at a church in Charleston, South Carolina, in June 2015. He pled not guilty last year on 33 counts, including federal hate crime and firearm charges. Prosecutors are seeking the death penalty.
On Thursday morning, as Roof was heading to the jail showers, Stafford — a black fellow inmate — reportedly attacked him, leaving him with bruises on his face and back. Roof told the Charleston County Sheriff's Department through his lawyers that he did not wish to press charges.
In a bizarre coincidence, George Zimmerman, who shot and killed 17-year-old Trayvon Martin in February 2012, was also attacked this week. He was punched in the face at a Florida restaurant after allegedly bragging about killing the unarmed black teen.
Read more: