Rio Olympics 2016 Biggest Sponsors: Here's a List of Who's Sponsoring the Rio Games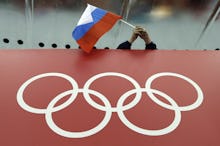 The 2016 Olympics are footed in part by a number of big-named sponsors. For brands who shell out major money to be associated with the Olympics and its athletes, it's an opportunity to get their logos and names in front of millions of eyeballs, and subsequently boost sales.
"The prospect of live sport on a global scale is enough to ensure the variety of [International Olympic Committee], team and athlete sponsors will get a good return on investment," Rupert Pratt, director of Mongoose, a sponsorship negotiator, told the Independent.
Here's a look 2016 Rio Olympics' biggest sponsors, according to the Rio Olympics' official website.
Nissan
Nissan is one of the biggest car manufacturers in the world and will provide up to 5,000 vehicles of different types to "meet the Games and the Brazil Olympic Team needs," according to the Rio Olympics' website. The Nissan Motor Company sells under the brands of Nissan, Infiniti and Datsun. Over the past three years, Nissan's global sales have increased, and in 2014 they wound up selling 5,310,064 units.
Bradesco
The company Bradesco may not be known to many people worldwide, but it's one of the largest banking and financial companies in Brazil. As of May 2016, Forbes has Bradesco as the No. 78 largest public company, with a market cap of $41.5 billion.
Correios
Correios is essentially the company that operates the entire national postal service of Brazil. Based on that, it's no surprise that they are one of the key sponsors for the 2016 Olympics. Their role in the Olympics will include moving more than 30 million items, including furniture. It's probably a pretty safe bet that they'll be busy for the next few weeks of action.
NET
NET is the largest cable provider in Latin America, as they offer a wide range of pay TV and broadband services throughout Brazil. NET's role in the Olympics will be to provide coverage of the Olympic games, while doing so in 100% high definition.
Claro
Claro is one of the largest mobile operators in all of Brazil. They offer coverage in more than 160 countries for data roaming and voice, while falling under the America Movil Group. The mobile operator currently has more than 60 million customers across the nation, and provides GSM and 3G network in the process.
Embratel
This is another telecomunications operator in Brazil, but one that offers telephone service, international and local calling, video, internet and cable, to name a few things. They offer their service via satellite, and are also a part of America Movil Group. According to the official Olympics website, Embratel was also the first company to sponsor Rio's application to host the Olympics.
Read more: