Unsung Style Icon: Winona Ryder, pioneer of goth attire and classy courtroom fashion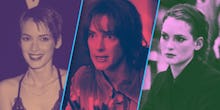 In the new Netflix series Stranger Things, Winona Ryder plays a woman who is absolutely frantic due to the fact that her son has mysteriously disappeared without a trace. 
That being the case, she dresses like a woman who is in the throes of a crisis, wearing oversized, utilitarian jackets with long-sleeved, chunky knits. Given that she's got a lot more to worry about than how she looks, she dons lots of corduroy, flannel and textiles that are equal parts comfortable and unflattering. And yet, Ryder pulls it off beautifully, looking more like an unknowingly stylish woman who's just had a ball in the bargain bin at a Salvation Army in Fargo, North Dakota.
By appearing to not really care about what she looks like, Ryder achieves this effortlessly cool, retro look, which only adds to Ryder's legacy as a quietly legendary style icon. Ryder doesn't exactly have a "that dress" moment, like Gwyneth Paltrow or Audrey Hepburn, but over the years, she has carved out an understated style that's all her own. 
Although she may be better known for things like starring in the only good Tim Burton movies or that time she took too many painkillers and tried to maybe shoplift, Ryder has everything a style icon should have. She's been unafraid to go against the latest fad or trend, and over a 40-year career that has included starring roles in '90s classics like Edward Scissorhands and Beetlejuice, Ryder has dressed remarkably consistent, sticking to the few silhouettes and styles and colors that really, really work for her. 
Here are just seven instances of Ryder unknowingly setting trends, and looking better and cooler than just about anyone. 
Ryder has always loved normcore and on Stranger Things, she was able to show that off. 
Given how well Winona Ryder pulls off wearing oversized jackets and flannel in Stranger Things, it should be no surprise that Ryder was one of the earliest adopters of normcore, the fad that still lives on today that involves wearing what a cool dad would on vacation. There's a lot of big jackets involved, and unflattering pants. 
In the late '80s and early '90s, Ryder was certainly a fan. Although people may remember her best as a small, glamorous woman draped in black, it looks like she has always been able to dress down in a very cool way. And with her role on Stranger Things, she was able to show that off. 
Although Stranger Things wasn't sold to us as a show that you'd focus on style, people inevitably did. That's in part because of Barb (of course), but also Winona Ryder, who seems entirely comfortable and still cool in a pseudo-mullet. For that alone, she's worthy of an Emmy.
Ryder has never been afraid to dress androgynously. 
As any girl in the '90s knew, a suit was essential. And what Ryder showed them was that a very, very oversized suit was essential, as it could look chic and effortless as hell. From early on in her career, Ryder often mixed items that are typically seen as masculine with the feminine, like wearing a black leather jacket with a lace dress, or a longline jacket with a skirt. 
So, in many ways, Ryder was the proto Kristen Stewart. Even more recently, Ryder has shown that she hasn't forgotten how cool she can look in a big suit, wearing an oversized tuxedo. to the premiere of her film The Black Swan in 2010. 
She was never afraid to experiment with her hair, either. 
Ryder's isn't just fearless when it comes to fashion, but her hair as well. Over the course of her career, she has gone from retro waves to a short pixie, and from a poofy bob to shoulder-length waves. Much like her approach to clothing, Ryder isn't devoted to one hairstyle in particular, instead tending to be more experimental when it comes to her look. 
Lately, she's stuck to a go-to, easy shoulder-length chop, but in the '90s and '00s, Ryder's hair could make a statement, going from long and blonde in Edward Scissorhands to a short, spiky pixie for Girl, Interrupted, which is still emulated by women today. 
Ryder has always been able to pull off the all-black, goth ensemble.  
Here's the first thing you should know about Winona Ryder's style: She loves the color black. Back in the '90s, for nearly every red carpet and appearance, girl was head-to-toe ebony. Like, if she were to walk 10 feet in front of you in the dark, you wouldn't be able to find her. And it wasn't just Ryder pairing black pants with a black shirt. It was her pairing a bejeweled black dress with a black lace shawl with a black lace purse. Girl was committed. 
Thankfully, the look did suit her, as the black contrasted nicely to her pale white skin and red lipstick, as well as her constant look of misery. This admiration for the darkest of shades also may have been a smart career move, as it fit her persona as an actress that was drawn to darker, more mysterious roles, a la her character in Beetlejuice. 
But besides the point that she could easily pull off all-black in the '90s, Ryder is also carrying on her goth legacy to this day, almost always showing up to red carpet events or openings in head-to-toe black. 
Just goes to show that once you go wearing head-to-toe black, you don't go back. 
Of course, back in the '90s, Ryder was a leather jacket queen. 
Given that she loved an all-black ensemble, it should be no surprise that Ryder also loved leather jackets. She could pair them with nearly every kind of outfit, for nearly every occasion, from premieres to gallery openings. 
The look fit her casual, tough girl, grunge persona as well, and also gave the innate ability to look like she's on the cover of an indie rock album at any given time. We applaud this. 
Oh, and if you think Ryder's grown out of her leather jacket phase, think again. Here is a picture of her wearing a Tom Waits T-shirt with a leather jacket in 1991, and here is Winona, in 2013, wearing the same goddamn T-shirt, but with a more refined leather jacket. 
Truly inspiring. 
Way before Kendall Jenner, Ryder wore hella chokers. 
Although women like Kendall Jenner and Gigi Hadid and Taylor Swift might not know this, Winona Ryder was the OG choker-wearer. And much like how women wear chokers now, she wasn't afraid to wear them to red carpet events, pairing those high necklaces with lace and velvet gowns (This is also probably a good time to remember that Ryder was once obsessed with velvet). 
So yes, Ryder loved chokers way back in the '90s, but she also still loves them now, showing up to events in 2013 and 2014 wearing a bunch of high necklaces as if to say, "Remember how good I looked in these, bitch?" 
And we did. We did remember. 
Ryder reinvented how celebrities dress to court. 
In 2002, as Ryder stood trial on charges that she shoplifted more than $5,500 in designer goods from a Saks Fifth Avenue in Beverly Hills, Ryder gave a masterclass for how a female celebrity should dress to court, unknowingly turning the walk to and from the courtroom into a runway. To hearings and court appearances, Ryder wore Marc Jacobs, a favorite designer of hers, headbands and girlish silhouettes, complete with peter pan collars, and for the first time in history, fashion critics began weighing in on what she was wearing day-to-day. 
"Throughout her trial, Ryder looked splendid," Robin Givhan wrote for the Washington Post. "For all of her courtroom appearances she was outfitted in a perfectly chic, refined and demure ensemble. She may be a shoplifter, but she has impeccable taste." 
She was the picture of innocence, and some say that was no mistake.
"As she stood trial on charges that she stole more than $5,500 in designer clothing from the Beverly Hills Saks Fifth Avenue, it was clear Ryder had tossed aside her grunge chick look and cheeky Hollywood kitten style," the Daily Press reported. "Instead, day after day in court, she appeared adorable, respectful and, at times, even helpless." 
Although the court ended up seeing through this more innocent facade, finding Ryder guilty of grand theft and felony vandalism, the look did gain her fans. After her trial, T-shirts that read "Free Winona" started popping up in and around Los Angeles. 
Over her nearly 40-year career, Ryder has shown the world just how daring she is with fashion, while also knowing exactly what works for her. 
She has gone from looking like a young Old Hollywood starlet, to a tiny grunge boy to a normcore queen — and back again. In the process, she's taught us how to wear all-black all the time, leather jackets all the time, oversized suits all the time and even embrace our most dad selves. Hell, she's even taught us how we should dress to court. Given all of that, we should be very thankful for her existence. 
Read more: