Justin Bieber Uncensored Nudes From Vacation With Sahara Ray Have the Internet Obsessed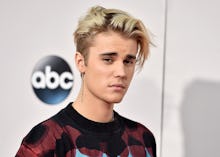 Twitter users whose thirst wasn't quenched by the New York Daily News' release of Orlando Bloom's full-frontal vacation nudes are in luck. Two days later, the paper is giving pop star Justin Bieber the same treatment.
Bieber, on vacation in Hawaii with girlfriend Sahara Ray, is the subject of a series of raunchy nude photos obtained exclusively by the Daily News. Though a big black box is firmly situated over the goods, the uncensored images (or, at least, extremely good Photoshops) have, predictably, seeped into every corner of the internet.
To top it all off, this isn't even the first time the general public has been treated to high-res pictures of Bieber in his birthday suit. While Bieber was vacationing in Bora Bora in the fall of 2015 with then-girlfriend Jayde Pierce, his father infamously responded to a separate photo leak by tweeting at his son, "@justinbieber what do you feed that thing. #proud daddy."
But just like the reaction to Bloom, Bieber's nudes immediately turned into a Twitter meme — and the reactions are priceless:
There's nothing wrong with a little (or a lot of!) collective thirst to see a sex symbol like Bieber naked, but it's important to note, just as we did in the wake of the Daily News featuring Bloom's nudes, that it isn't immediately clear if either Bloom or Bieber consented to having their penises on the internet. That may not affect your thirst for celebrity peen — but it should factor into your decision on whether to quench it.
Look at the uncensored versions of Bloom and Bieber's nudes if you must (they're easy enough to find), but remember: Two dongs don't make a right.
Read more: