Police Raid Uganda Pride Festival and Harassed LGBTQ Attendees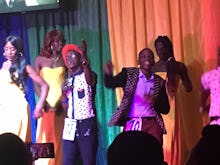 Ugandan police interrupted the Mr. and Miss Pride Uganda pageant Thursday night at a Kampala nightclub called Venom, according to Buzzfeed. Police detained several LGBTQ activists, who tweeted they had been arrested.
Around 20 to 25 people were arrested, those detained told BuzzFeed. 
According to LGBTQ activist B.M. Clark, who attended the celebration, contestants began to scream and rip off their costumes to avoid getting arrested. The people inside attempted to escape, but police had locked the gate, trapping everyone inside, Clark said to Mic. 
"About 200 of us were crammed into a back corner being held by about 10 police with machine guns," Clarks said in a statement to Mic. "They would forcefully hold people's faces in both hands and take their pics to use for blackmail." 
Those who resisted were beaten, according to Clark. 
Clark said he heard one police officer say, "This kind of stuff doesn't happen in my district, we don't allow butt-fucking here. I will put a stop to it every time." 
Uganda infamously passed what is colloquially known as a "kill the gays" bill in 2012. The bill was proposed in 2009, but took several years to pass due to international outrage. 
Pepe Julian Onziema of Sexual Minorities Uganda told BuzzFeed that police said the event did not gain proper permission to hold the event, a claim Onziema denies. 
"There's no way we would hold an event without a clearance," Onziema said. "They don't care as long as the word 'homosexuality' is mentioned. As soon as that is mentioned, everything else ceases and [police feel they] have to act." Onziema also said the event has been going on for four years. 
According to several witnesses, police were especially violent toward transgender attendees. 
"They were beating people ... mostly the trans women," 2015 Mr. Pride winner Adebayo Katiiti Phiona told BuzzFeed. "A police person even stepped on a trans woman."
Clark said prior to police intervention, the contest featured one contestant who came out with a dress featuring names of the 49 people killed in the shooting in June at Pulse nightclub in Orlando, Florida. 
"The stories these women told, the strength they had, it is all erased because this happened," Clark said.