Frank Ocean's 'Boys Don't Cry' Track List May Have Leaked, But His Angry Fans Know Better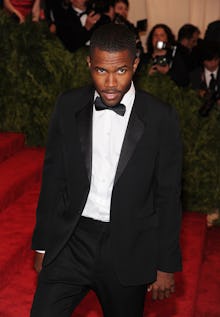 A careful fan must always be wary of the parade of trolls that marches ahead every highly anticipated release. Friday, on the day Frank Ocean's Boys Don't Cry was rumored to drop, a "leaked track list" started to circulate on Twitter. It clocks the album at 16 tracks, boasting features from André 3000, Kendrick Lamar, Lorde and Chance the Rapper.
While seeing these artists on an Ocean project is not outside the realm of possibility, there's still little to suggest it's in any way legit. Official-looking track lists cluttered up the lead-ups to Beyoncé's Lemonade, Rihanna's Anti and Drake and Future's What a Time to Be Alive. 
Many fans refuse to be baited, and are in turn offering track lists of their own punning on the years-long tease Ocean has put his fans through.
Each attempts to make light of the seemingly endless wait fans have been standing as Ocean readies his album release. 
"I hate myself for making y'all wait for no damn reason," one proposed track title reads. "No Album, No Problems" reads another. 
Others have been punning on the construction project that Ocean has been working in his livestream, which opened Monday. He has been playing snippets of instrumental music, which one heroic SoundCloud user has been diligently collecting. But it's really been mostly hammering, sawing and white noise.
What ever Ocean is building, he's definitely getting close to finishing. He finished his last box Thursday night and covered them all in coats of black paint. They're currently drying on the floor of his workshop. The wait may soon come to an end.
Read more: