This Guy Figured Out How to Hack His Way Into Fancy Airport Lounges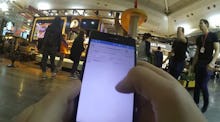 Airports have a strict hierarchy — and plebes just aren't allowed into those exclusive first-class airport lounges. But Przemek Jaroszewski, who actually is a frequent first-class flyer, figured out a way to hack his way in after he was accidentally denied entry to an airport lounge in Warsaw, Poland, reported Gizmodo.
Jaroszewski whipped up a handy Android app that allowed him to gain access to fancy lounges in European airports by generating a QR code that uses his real flight number but a fake name and airline class. 
The airport lounges, Gizmodo reports, only check to make sure a flight number is real — they don't verify the names and classes of passengers. So, while you still need a real ticket to get through security, once you're inside the airport you can fake your way into the nice lounges. Jaroszewski uploaded a video to YouTube back in April, showing the hack in action.
But don't start mapping out your career as an elite scammer just yet. Jaroszewski said he has no plans to make the app downloadable to the public. He didn't even include an explanation of the hack with his YouTube demonstration. But now you know the truth is out there: You can get into a first-class lounge without a ticket, but only if you're a first-class hacker.
See it in action here:
Read more: